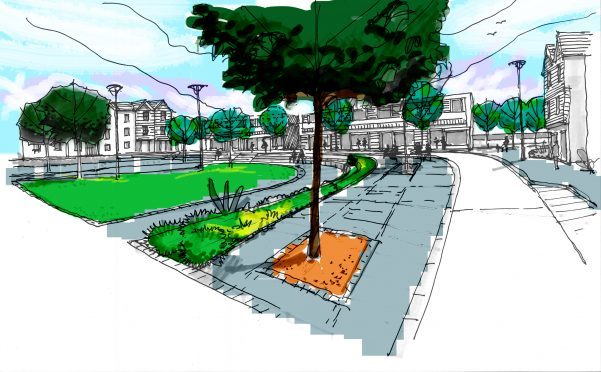 Proposals that would add hundreds of new homes to an Aberdeenshire community strengthen the case for dualling the existing A96, it was claimed last night.
Dandara wants to build 737 new homes as well as a business estate and new primary school at Crichie, Port Elphinstone, and has now submitted a planning application to Aberdeenshire Council.
The firm's vision includes a series of changes to local roads, beginning with the introduction of a grade-separated junction at Thainstone, where the existing roundabout would be removed.
It also calls for the removal of Stevenson's roundabout and the continuation of dual carriageway, before it reduces to standard road width at the Don bridge.
With the ongoing debate over dualling the A96, some have suggested the new development could form the basis of a solution – with the road dualled along the current route and a potential new link road connecting the A96 with the B9001 Rothienroman road.
A consultation on expanding the A96 Aberdeen to Inverness road, between the Granite City and Huntly, finished in July.
Government agency Transport Scotland is currently considering a number of route options for the A96 project.
Many in the local community have called for the road to be dualled along the existing route. That call has been echoed by the A96 Action Group.
Gordon Conservative MP Colin Clark said: "These plans show by staying on the route with a category five dual road a solution could be built very quickly.
"A link road from the Rothienorman road would solve Inverurie's congestion and preserve the unspoilt countryside.
"Transport Scotland's route is destructive, ludicrously expensive and would take 10-15 years – if we are lucky."
A Transport Scotland spokesman said: "As part of the Scottish Government's commitment to dualling the A96 between Inverness and Aberdeen, we are progressing the design work for the East of Huntly to Aberdeen stretch of the route.
"Having let local residents see and comment on the initial options last October, we held further engagement events in May for the remaining options being taken forward for further assessment and over 1,300 people took the opportunity to come along and view the material with nearly 700 written responses received.
"All feedback received is vital and will be taken into consideration as we look to identify a preferred option for the scheme."
A spokeswoman for Dandara declined to comment on the proposals as the application was now live.
A spokeswoman from A96 Action said: "The road layout plans shown in the application are positive, in our view, and strengthen the case for online dualling – the only option that makes economic, environmental and common sense."