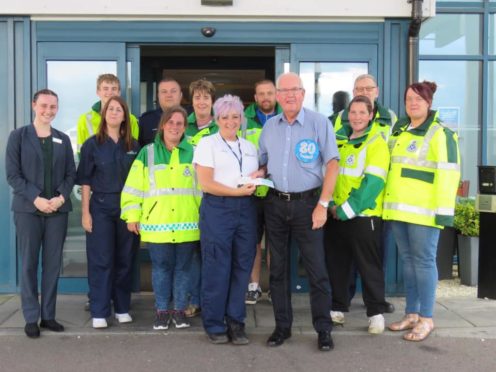 A team of dedicated volunteer lifesavers are celebrating after a funding boost.
The Westhill and Kingswells Community First Responders were the chosen charity of local man Ron Black, who recently celebrated his 80th birthday.
The group work to relive the pressure put on ambulance crews by attending potentially life threatening 999 calls.
Mr Black, who suffered a cardiac arrest 12 years ago, decided to ask for donations for the charity instead of birthday gifts after learning about the work the volunteers carry out from his granddaughter Sarah, who is on the team.
He said: "It is a great local cause run solely on volunteers.
"If the first responders could help in anyway to save one life, then that would be brilliant."
The group started in 2005, when local people wanted to do something to aid the Scottish Ambulance Service.
The first responders are contacted by the ambulance control room when callers have "potentially life threatening" conditions such as difficulty breathing, cardiac arrest or stroke symptoms.
To save time while paramedics mobilise, as ambulances may be a fair distance away, volunteers from the Westhill Responders race to the scene and start to administer oxygen, CPR or other potentially life saving care until the ambulance arrives.
The money raised by Mr Black's birthday celebrations – £670 – will go towards a long term goal of purchasing a vehicle for the group to use when attending emergency calls – as volunteers currently they use their own.
Gillian Wilkie, a care worker is one of the 12 volunteers of the organisation.
The 30-year-old, who joined the group last April, said: "We don't have our own vehicle and our currently using our own cars, so we're trying to raise money for one we all could use.
"We go to all sorts of life or death situations and do what we can – we also have our own defibrillator if we need it.
"It was great when we found out Ron would be fundraising, his granddaughter is one of the members and that's how he found out about us.
"Any amount raised does make a difference to our group – and we're always looking for volunteers, so anyone interested can feel free to get in touch with our Facebook page."
The Westhill and Kingswells Community First Responders also offer free CPR lessons to local schools, businesses and organisations.
For more info go to www.facebook.com/westhillkingswellscfr