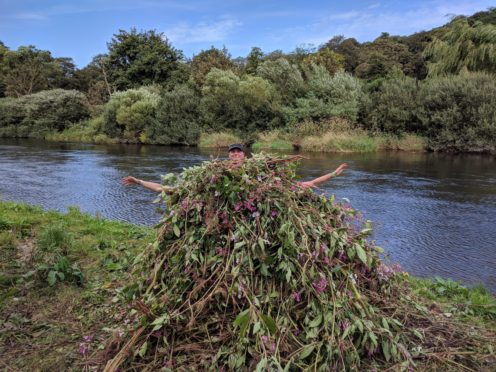 Conservationists have pulled an entire snowman's worth of an invasive plant from a north-east riverbank.
The Scottish Invasive Species Initiative (SISI) team uprooted the Himalayan balsam from the banks of the River Deveron near Turriff, as part of ongoing efforts to rid northern Scotland's fresh waterways from animals and plants not native to the country.
The environmentalists, who were joined last week by volunteers from the Save Scotland's Red Squirrels project, removed so much of the alien vegetation that it piled up higher than a person.
SISI project officer Al Reeve, of the Deveron, Bogie and Isla Rivers Charitable Trust, said: "The focus is on controlling invasive species in our fresh water rivers, and we have four main species we're trying to control – giant hogweed, which we focus on during the early summer months; Himalayan balsam, which we are currently tackling; and then Japanese knotweed, which we move onto later in the year.
"And throughout the year we also try and capture American mink and remove them from local ecosystems.
"Historically, invasive species have been controlled by a small number of people over a large geographic area, so the idea of this project is to de-centralise and get local organisations to offer volunteer opportunities, so a larger amount of people can handle smaller volumes of work, in order to be more effective."
He explained that Himalayan balsam was a challenge for the teams as it "dominates" its landscape by producing lots of seeds and growing quickly – driving out other plants.
This can cause problems later in the year, particularly on riverbanks prone to flooding.
He added: "Because it's an annual plant, in the winter once its gone it can leave big patches of bare riverbanks, which can cause problems like flooding, and reducing habitat for the likes of salmon and trout wanting to lay their eggs."
The initiative is always on the look-out for people to give up their free time and help the cause, and help protect the environment at the same time.
Mr Reeve said: "Volunteering for the SISI can be fantastic for your mental well-being and you can make a huge difference to local riverbanks, and wider river eco-systems as a whole.
"Any member of the public can come along, no experience is required and all you need is a pair of gloves, which we provide."
To find out more or volunteer, email sisi@nature.scot, or visit www.invasivespecies.scot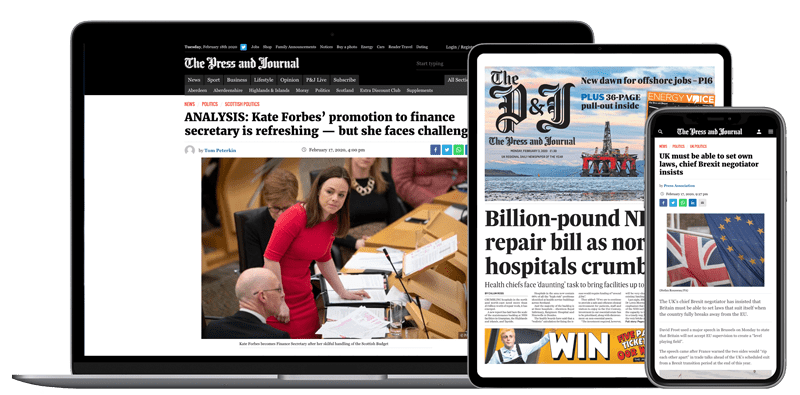 Help support quality local journalism … become a digital subscriber to The Press and Journal
For as little as £5.99 a month you can access all of our content, including Premium articles.
Subscribe