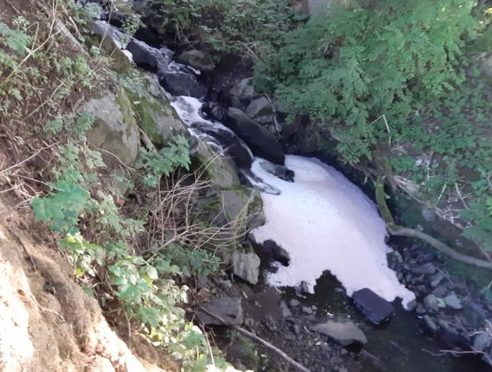 A north-east burn once teeming with wildlife has again fallen victim to a mystery contamination.
Environmental officers were called to Broomies Burn in Ellon at 7.45am yesterday after passers-by noticed a layer of thick white foam on the surface of the water.
The pollution occurred near the Balmacassie industrial estate and locals fear industrial products may be entering the water from one or more of its businesses.
To date, the Scottish Environmental Protection Agency (Sepa) has been unable to identify the source of the problem.
Broomies Burn flows south into the river Ythan on the eastern edge of the town.
The burn has been polluted several times in recent years, most recently in July this year when grey water was seen "discharging" into the usually clear burn from the industrial estate.
And in July 2018, local residents reported a strong smell of sewage coming from the burn.
Previous Sepa probes have been unable to find evidence of contamination at the popular walking spot, much to the frustration of the community.
Sepa was alerted to the latest contamination yesterday morning by local man Craig Davis.
He said: "This is about the fifteenth pollution event at Broomies Burn I've reported to Sepa over the last few years.
"It seems to be a cleaning agent coming from one of the businesses in the industrial estate.
"There used to be a phenomenal amount of wildlife there but the burn, and therefore the Ythan, is now so polluted I can't see how any of it can survive.
"It's been two years since I saw an otter there and I don't see kingfishers or herons there anymore."
Local councillor Anouk Kloppert, who is also a member of the River Ythan Trust, said: "It is disheartening that the Broomies Burn is again and again not safe from pollution.
"I would like to remind those next to the burn, who may not always understand the consequences of their actions, to take care when getting rid of liquids as they can find a way into burns and rivers and cause great damage.
"In this day and age we should not allow any of this to happen.
"Where the Broomies Burn used to be full of wildlife, now hardly any is left, with the burn near sterile."