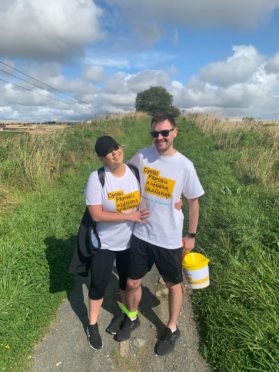 Walking 20 miles across Aberdeenshire's rugged terrain would challenge most people, but a north-east couple have managed it with their legs tied together.
Newmachar pair Leeza and Jason Stewart took a three-legged country and coastal route from their home village to Aberdeen beach over a gruelling six hours on Sunday.
Marketing consultant Leeza, 30, and husband Jason, 31, took on the challenge for the Cystic Fibrosis Trust, so far raising £1,650.
They were inspired to raise awareness of the condition, and the need for drugs like Orkambi to be made available on the NHS, after their friends' Chris and Kerry Laing's four-month-old daughter Piper was diagnosed with the condition.
Speaking to the Press and Journal, Mrs Stewart said: "Kerry and Chris are close family friends, so when Piper got the diagnosis it was devastating.
"We're parents ourselves so it really hit home and we felt so helpless, like there was nothing we could do.
"People do walks all the time, so we thought why not be a bit crazy and do it three-legged.
"We set a target of £500, which we thought was ambitious, so to raise as much as we have is fantastic.
"We've been blown away and humbled by the support we've received."
Mrs Stewart added: "People were so kind to us during the walk itself.
"A lot of people, complete strangers, stopped to cheer us on and push us to keep going.
"There was one group of quite young boys on their bikes who insisted on giving us money – it must have been their pocket money.
"It was really emotional coming to the end, we got such a warm welcome, with party poppers and champagne.
"It brought home to us why we did it."
To donate, visit www.justgiving.com/fundraising/leeza-stewart.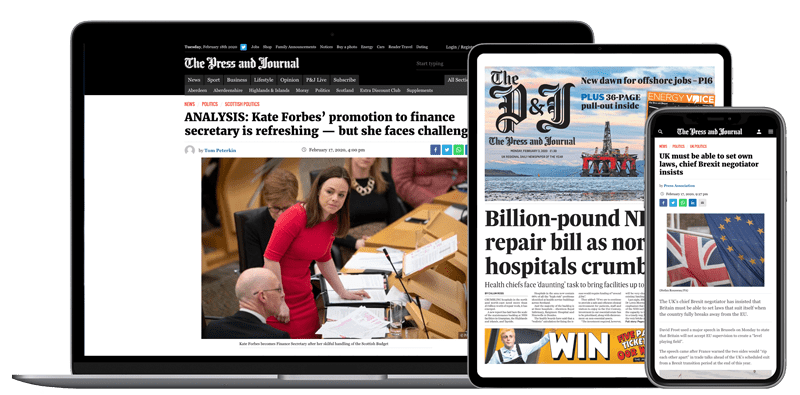 Help support quality local journalism … become a digital subscriber to The Press and Journal
For as little as £5.99 a month you can access all of our content, including Premium articles.
Subscribe