A newly-wed who lost her home – and three precious pets – after a fire broke out while she was on honeymoon has thanked the community for rallying around.
Sandra Mackenzie-Hawe and groom Andy tied the knot last Saturday, vowing to always support each other as a family.
Little did they know that just days later their promises would be put to the test, when their home was destroyed in an early-morning fire.
Nearly 30 firefighters were called to the property in Methlick at about 1.30am on Wednesday and worked for three hours to extinguish the blaze.
Mrs Mackenzie-Hawe's sons, Danny, 17, and Jamie, 16, fled from the house using the family's planned evacuation route while their father, Donald – who was looking after the boys – tried to tackle the flames with the garden hose.
The teenagers then ran back inside through the thick smoke to try and save their pets, and managed to pull one dog to safety.
However, the family's beloved Labrador, Cavalier King Charles Spaniel and Norwegian Forest cat perished.
Now Mrs Mackenzie-Hawe is urging other families to ensure their smoke alarms are working properly and that doors are closed at night. She also suggested they should make their own evacuation plan.
Danny and Jamie did just as they had discussed with their mother, escaping through their bedroom windows and down onto the conservatory roof.
Mrs Mackenzie-Hawe said: "I have always had a fear of fire and so we had lots of smoke alarms. That door being closed and those smoke alarms saved the lives of my children.
"The part of the house where the roof caved in is my son Jamie's bedroom.
"Having been forced to climb out an upstairs window due to the smoke, our brave boys then re-entered the burning building with a towel over Jamie's face due to the thick smoke, and as a result he managed to save the life of one of the dogs.
"Their loss is what we grieve most.
"Possessions can be replaced but we adored those animals."
Mrs Mackenzie-Hawe and husband Andy, 50, raced home from Holland to be with the boys but in the meantime the local community and friends rallied round, with offers of clothes and even a temporary new home flooding in.
Wray Thomson, founder of men's mental health charity Men's chat, met with Jamie and Danny for lunch after the group had clubbed together to donate items to the boys to tide them by.
Work colleagues and friends also visited the boys in the hotel.
Mrs Mackenzie-Hawe said: "Jamie attends college having started an NC business there this year and did not even have so much as a pen to go in with yesterday.
"The college were brilliant and are supporting him.
"He lost his laptop with work on there.
"Danny attends Meldrum Academy who were great.
"Danny's friends clubbed together and bought him a pair of trainers. His friends had a huge bag of clothes to loan him.
"We have had offers of rooms in folks houses from people we barely know.
"On Thursday night, the factor from Haddo Estate was offering us a four bedroom house on the estate while we await ours being rebuilt."
The 39-year-old, who is hosting her wedding reception today, added: "We have been all through so much. People's support in this just helps us feel we are not alone. We are surrounded by love.
"We never expected any of this as we said our vows on Saturday.
"We promised to support each other as a family, and to always walk beside each other.
"How quickly all that has been required."
The cause of the fire is yet to be determined.
Click here to request a free fire home safety check.
Fundraiser
A fundraiser will be held in aid of the family tomorrow.
Imogen Allen Baxendale has organised a dog charity walk at Haddo House.
The event was to originally raise funds for charity Support Dogs, but she has decided to donate a chunk of the takings to the fire-hit family.
She said: "I started a page called Labradors of Aberdeen(shire) about two years ago when my mum had her first litter of Labrador puppies.
"Since we've grown I am looking into turning us somehow into a charity to help raise money for those who can't afford the expensive vet bills and such.
"When I read about Sandra losing her pets in the fire it broke my heart almost in tears.
"The next day I decided to get my productive pants on and get something sorted for the family. Since I already had the charity walk in place, it made it easier to help raise a bit of money for the family for fresh clothes, and what ever else they need.
"I didn't expect the response from the public to help donate and all the kind offers that have been shared.
"My heart breaks for the in the family losses and the children are so brave. I feel the community's efforts will really help pick them up from this tragic time."
The event will take place at Haddo House between 10am and 3pm.
No tickets required – but donations encouraged on the day.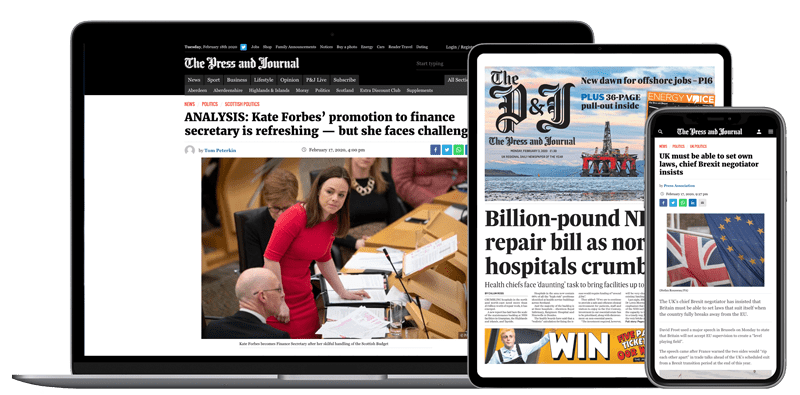 Help support quality local journalism … become a digital subscriber to The Press and Journal
For as little as £5.99 a month you can access all of our content, including Premium articles.
Subscribe