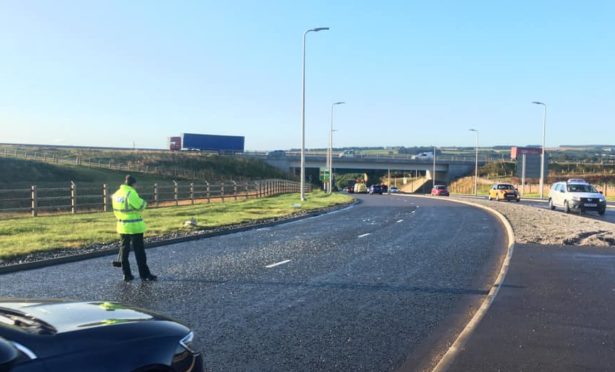 The A90 has re-opened after being closed near Stonehaven earlier this morning.
Motorists were delayed after the route was closed in both directions because of nails on the road.
The clear-up happened at the AWPR roundabout near Stonehaven. The B879 was also affected.
*CLEAR* 09:25#A90 has REOPENED both ways near Stonehaven has been CLEAR and running well https://t.co/C4Z8pqKBJu

— Traffic Scotland (@trafficscotland) September 11, 2019
The closure was first reported at 8.30am.
Motorist Gavin Park had stopped to clear other debris off the road when he spotted the hazard.
The photographer said he did not think the nails had been maliciously spread over the tarmac, adding: "I spotted a smashed toilet all over the road as I came up to the roundabout coming out of Stonehaven and stopped to clear it up.
"It was then I noticed a huge box of inch and a half nails that had obviously come off the back of a truck and exploded across both lanes.
"There were thousands of nails. I do not believe for a second police could have got them all."
"I would guess the nails and the toilet fell of a lorry and were not intentionally scattered because there were lots still in the box."
West Aberdeenshire and Kincardine MP Andrew Bowie welcomed the speedy response from the police.
He added: "This awful mess no doubt caused chaos for thousands of motorists.
"It's fortunate that the incident was reported quickly. It could have caused a terrible accident."