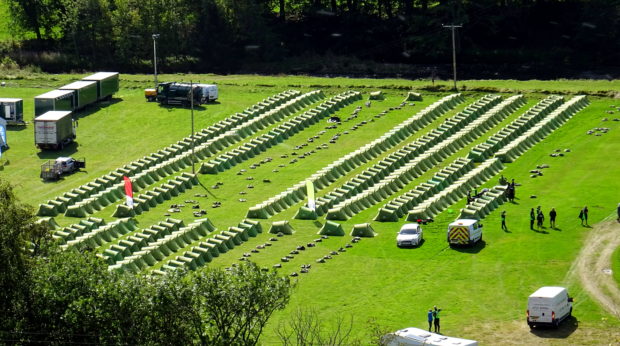 Hundreds of cyclists set up camp in Strathdon yesterday in the grounds of the famous Lonach Gathering, after completing the seventh day of a 980-mile journey across the UK.
Around 900 riders taking part in the Deloitte Ride Across Britain challenge were welcomed to Bellabeg Park in Strathdon by tartan-clad highlanders and the rousing sound of bagpipes, just weeks after the community hosted thousands of visitors for the annual gathering and games.
The gruelling cycling adventure tasks bikers with pedalling all the way from Land's End to John o'Groats.
During yesterday's stretch from Edinburgh to Strathdon, the cyclists travelled 100 miles and ascended 7,000 feet.
They were greeted at Bellabeg Park with more than a few well-earned pints, and traditional displays from the Lonach Highlanders and the Lonach Pipe Band.
Hundreds of tents were set out in the playing fields for the cyclists and their support crews to enjoy some rest before they get back in the saddle today.
Jennifer Stewart, the secretary and chief executive of the Lonach and Friendly Society, said: "Bellabeg Park is likely to have been a very welcome sight for the cyclists today.
"The climbs up through Glenshee and over from Crathie to Corgarff are quite something, but the spectacular views they afford will have more than made up for the exertion.
"That scenery and those climbs will no doubt have been captured in plenty of photographs.
"I suspect the cyclists will be in need of a beer or two from our pop-up bar during the evening, especially knowing the climb they face on Saturday morning."
Ms Stewart said the Strathdon community shifted up a gear to make the cyclists feel as welcome as possible.
She added: "In recognition of the effort the cyclists have made to get to Strathdon, the Lonach Highland and Friendly Society wanted to make it a memorable visit for them.
"With the Lonach Pipe Band, members of the Lonach Highlanders and also the young dancers from the Lonach Society School of Dancing, they received a unique and fitting Highland welcome as they wheeled into Bellabeg Park."