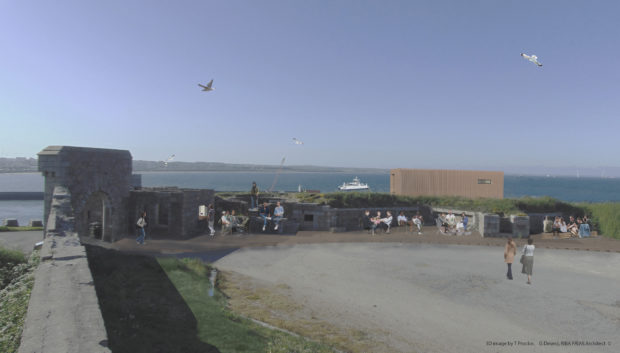 Wildlife lovers raising vital funds to help open a world-class dolphin-spotting centre in Aberdeen will be celebrated this month.
The Greyhope Bay project was initially envisaged as a major marine wildlife viewing facility, close to Girdle Ness Lighthouse, and boasting a £10 million price tag.
Following a public consultation, however, the decision was made to move the development the short distance to the history Torry Battery.
And instead of proposals for one large build, the organisers have opted to take the project forward in phases, with Dolphins at the Battery first up.
The initial stage of the project seeks to construct a glass-fronted viewing platform –  utilising old shipping containers – to create a centre from which visitors can enjoy panoramic views of Aberdeen's harbour and coastline and catch sight of the local population of bottlenose dolphins.
To contribute towards the £150,000 required to make Dolphins at the Battery a reality, the organisation has recruited a group of "skippers".
All members of the community and hailing from all walks of life, they are working together to gather money for the project through all manner of fundraisers, from cycling 70 miles all the way from Braemar to the development site, to organising a garden party.
The efforts of the first wave of skippers will be highlighted on September 29 at the Torry Battery at "Greyhope Day", a special celebration of their support featuring music, community stalls and tours.
Fiona McIntyre, the managing director of the project, says that if all goes well enough cash will be raised through fundraising and backing from organisations to open the first stage by spring 202.
She said: "Our Skippers' motivation to support the project and take ownership of it has revealed has become the power behind the project. It is really quite inspiring.
"Our focus will be sharing our Greyhope Skippers' fundraising stories.
"They have all become involved with an incredible enthusiasm and energy for Greyhope Bay and have mobilised their communities to contribute."
The Greyhope Day event will run from 1-5pm.
To find out more or to sign up to become a supporter, visit www.greyhopebay.com.