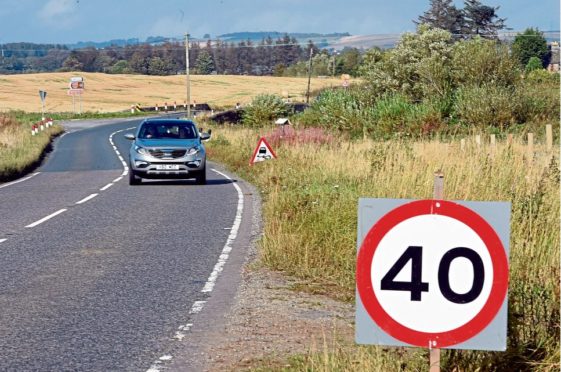 Speed restrictions have been put in place on a busy Aberdeenshire road while the council and police attempt to work out why it has been blighted by so many accidents.
A temporary 40mph limit has been imposed at the Swailend junction of the A947 Dyce to Newmachar road, which has been the site of several crashes this year.
The most recent was on September 9 and involved a Vauxhall Corsa, which was severely damaged after it overturned, though the motorist behind the wheel of the car was not seriously hurt.
Several potential theories for the increase in incidents have been put forward, from the nature of the bend to the quality of the road surface in poor weather.
But to reduce risks in the interim period before a solution is found, Aberdeenshire Council has opted to enforce a temporary limit, extending from the bridge over the Goval Burn to just south of Nia Roo caravan park.
The reduced speed has been put in place following concerns raised by East Garioch councillor Fergus Hood.
Mr Hood said the new restrictions will be enforced until the council establishes precisely what is causing issues for motorists at the junction.
He said: "Over the past three months or so, there have been a great number of vehicles going off the road on that stretch.
"We can't quite get to the bottom of why it is happening, so after a multi-agency discussion involving the police, we agreed an approach to discuss what's going on and see what can be done to improve the situation.
"We think the probable cause of these accidents could simply be speed, but it could also come down to the road surfaces as well, as a number of these incidents have taken place in wet conditions."
A spokesman for Aberdeenshire Council added: "Following concerns being raised regarding a number of incidents where vehicles have left the road in the vicinity of the Swailend Junction on the A947, a temporary 40mph speed limit has been introduced.
"As well as looking at vehicle speeds, the team will be considering the condition of the road surface, particularly in relation to the available skid resistance in wet conditions.
"Until such time as investigatory work is complete and any required improvement works carried out, the temporary speed limit will remain in place.
"Drivers are urged to take note of the current restrictions and, as always, drive appropriately to the road conditions."