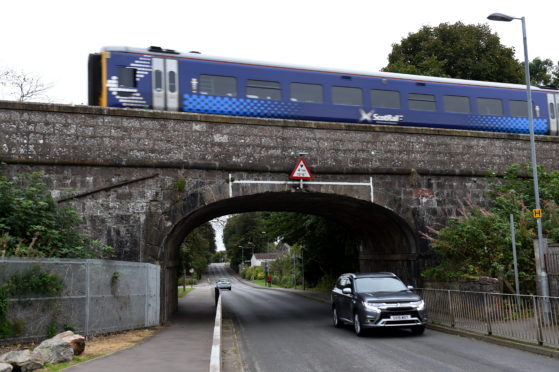 Plans to lower a busy commuter road that runs beneath a railway bridge in Stonehaven have been dismissed by councillors over fears it could cost more than the estimated £500,000 price tag by damaging the "elderly" crossing.
Double-decker buses operated by Stagecoach Bluebird stopped travelling along the Slug Road as it passes under the railway after an accident three years ago in the Highlands, where a bus collided with the underside of a bridge.
The company carried out risk assessments on all of its routes following the incident, and found potential issues on the Slug Road – prompting bosses to immediately stop all of its double-decker services from using the spot.
Yesterday, councillors on the Kincardine and Mearns area committee were asked to consider potentially lowering the Slug Road by 7.8 inches, at an estimated cost of around £500,000, to allow larger vehicles to safely pass beneath it.
Officers argued that allowing Stagecoach to reinstate its double-decker buses on the Slug Road could result in annual savings of between £10,000 and £50,000 to the council, which partially subsidises the Stonehaven town service.
However, a motion by Stonehaven and Lower Deeside councillor Sandy Wallace to dismiss the proposal was agreed by members – with an additional recommendation for Stagecoach to re-assess its services in Stonehaven.
North Kincardine councillor, Colin Pike, said: "Anyone who knows about projects involving elderly structures knows they are fraught with potential problems, and this could cause Aberdeenshire Council to spend money we just don't have."
A Stagecoach spokeswoman said the firm would "continue to operate as per our current routing around Stonehaven".