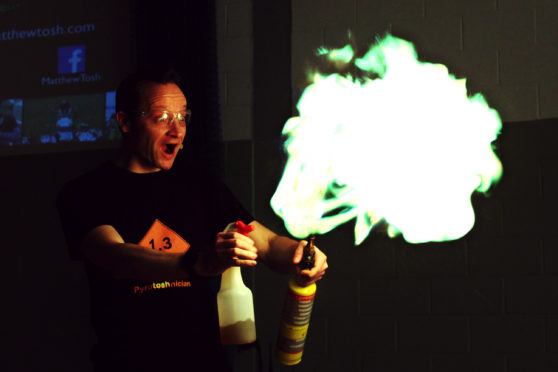 A north-east science festival will go out with a bang at the weekend.
Matthew Tosh, one of the UK's leading pyrotechnicians, will explain the magic behind fireworks displays and demonstrate exactly how the colourful explosives work.
The all-action show will officially close TechFest, a yearly event which aims to engage young people in science, technology, engineering and maths (Stem), and encourages them to go on to follow a career in those fields.
Mr Tosh will talk through the components involved in making a live firework display and will bring to life the sights, sounds and smells of the experience safely within a few feet of the audience.
He said: "I'm really looking forward to being part of TechFest and demonstrating how art and performance are combined with Stem to ensure that displays are spectacular and safe for the public.
"This is not just a show, it is an experience and an absolute must for fireworks fans and curious minds alike.
"I'll be sharing some industry secrets and offering a unique look at the preparation, detail and magic that goes into making these displays a success."
Sarah Chew, managing director of the extravaganza, added: "The role of a pyrotechnician is a great example of a really interesting and exciting job which relies on these invaluable subjects."
To view the entire TechFest public programme, including "Fireworks: Real Science or Just Bangs?" on Sunday, people can visit www.techfest.org.uk