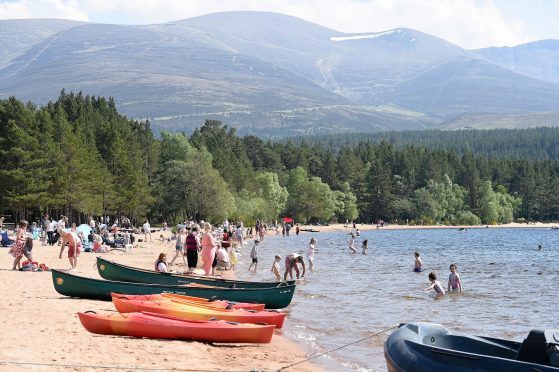 Scotland's national tourism body has launched a new podcast which celebrates a multitude of features the country has to offer.
The initiative has been designed to potentially attract millions of visitors from around the world, both in the coming months and throughout 2020.
Podcasts, which are on-demand audio programmes available to listeners through the internet, have surged in popularity during the last decade, with around seven million listeners in the UK, and 62 million in the USA.
Visit Scotland's new show, 100,000 Welcomes, is available from this morning to help mark International Podcast Day.
During the course of five 25-minute episodes, the production seeks to illustrate the myriad sounds and stories of Scotland.
Some highlights include wild swimmers making a splash in Loch Morlich in the Cairngorms, a tour of Aberdeen's street art created through the NuArt festival, and a discussion with Alison O'Donnell, the star of the hit crime TV series Shetland.
Neil Robertson, the host of the programme, said: "Podcasts allow you to delve deeper and really capture the personal side of local stories.
"Scotland has such a huge range of sights, sounds and personalities which we sought to capture in these episodes, darting between some of our most beautiful rural spots to what makes our cities really tick.
"It's the absolute silence of Galloway Forest Park in the dead of night, and the renewed cultural vibrancy on display in the Granite City.
"There's the constantly inspiring role the outdoors has on our lives, and the countless passion-fuelled conversations with locals who share my love of Scotland.
"They are just some aspects of the project which I loved, and I hope make this a truly rewarding experience for the listener."
Malcolm Roughead, chief executive of Visit Scotland added: "Scotland has a wealth of stories and it's the people and their warmth of welcome that sees visitors return time and time again to explore our wonderful shores.
"100,000 Welcomes paints an immersive picture for listeners, taking them on an audio journey across Scotland, revealing our dynamic history, culture and character.
"Having heard the sounds of Scotland, we hope the podcast will inspire listeners to take the next step and give the rest of their senses a memorable experience by exploring the country for themselves."