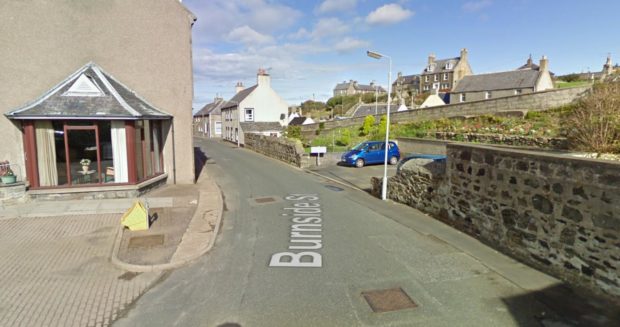 Fears have been raised that pedestrians in a north-east town could be put at risk if plans for a funeral home are approved.
Funeral director David Urquhart lodged plans for the parlour in Burnside Street, Portsoy earlier this year.
The L-shaped facility would include a large chapel and two rest rooms, as well as an office and interview room and a mortuary.
But now several objections have been lodged, raising concerns about road safety and flood risk.
In her letter to Aberdeenshire Council, local resident Jean Ray said she had concerns that pedestrians and residents of the nearby sheltered housing complex could be at risk.
She wrote: "There are no pavements on either side of Burnside Street, therefore a larger volume of traffic not only coming along the street but also parking on either side will make it dangerous for pedestrians and increase the risk of injury to residents of the sheltered housing complex as well as other local residents in the vicinity."
Aberdeenshire Council's own flooding teams have also raised some concerns.
Engineer David Gander, from the flood risk and coast protection team, warned the location had historically flooded and that work had previously been carried out to improve drainage and reduce the risk to existing properties.
The proposed site also lies within the Scottish Environment Protection Agency's flood mapping which shows a high likelihood of flooding.
Mr Gander wrote: "Considering both points together, we consider that the flood risk is such that this is not a suitable location for built development and that built development here will potentially increase the flood risk elsewhere through loss of storage."
Referring to the concerns, GP Waypoint Design point out in the supporting statement that the premises was previously used as a place of worship for Jehova's Witnesses twice a week, without issue.
The agents added: "The proposed rest rooms and chapel facility proposed for Burnside Street has ample off-site parking for a facility of this description where the chapel element is only expected to be used sporadically, and not on a regular scheduled basis. The rest rooms and mortuary will be used on a more regular basis but this will generate only minor traffic use to the facility.
"Burnside Street is not a main thoroughfare in Portsoy and is in fact a very quiet street with little through-traffic so on-street parking when required would cause very little disruption."
Councillors will discuss the proposals at a later date.