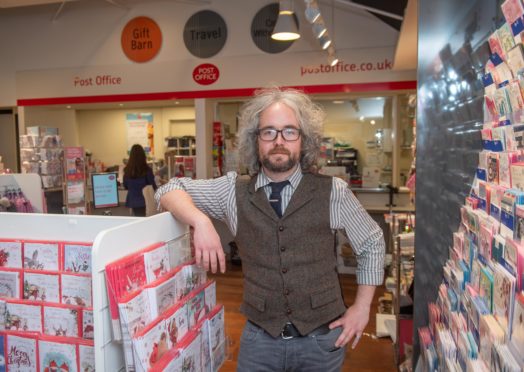 A postmaster has warned communities across the north-east could be left without a post office unless "big changes" are made.
Rory Will believes the "insanely archaic" business rates that high street branches face, combined with the traditional business model they follow means post offices across the region are struggling to survive.
Despite Inverurie being one of Aberdeenshire's fastest growing towns, the post office on Burghmuir Drive closed earlier this year leaving just the one on West High Street.
But Mr Will – who revealed the post office is subsidised by his business Will's Coffee House and Gift Barn – is unable to take on more staff to meet demand.
He is calling for Aberdeenshire Council to offer a rates relief package for businesses offering a vital public service.
He said that due to the current financial deal with the national Post Office business, his branch earns just 1p from each stamp sale, and half a penny from every pensions account withdrawal – which he said makes up a large percentage of his customers.
Mr Will said: "I've paid more in business rates than I've ever paid myself, it's an insanely archaic tax.
"Why are post offices, who are offering this vital service to the public, not getting some sort of support package?
"I stop scams on a weekly basis and spend a great deal of time assisting disabled or elderly individuals who need help.
"The other week I had a blind person come in, and spent 40 minutes helping them with their passport.
"But I'm not unique, I'm not some sort of superhero in Inverurie, postmasters everywhere are doing this extra work for vulnerable people."
He added: "Our post office is not likely to be sustainable unless there are some big changes."
The Scottish Government sets the business rates, but Aberdeenshire Council can offer help with payment plans to ensure firms do not go into arrears.
A Post Office spokeswoman last night said a review was under way to protect branches at the "heart of communities".
She said: "We will be contacting the postmaster at Inverurie Post Office to discuss any concerns they may have.
"The people running our branches are the heart of their communities, and the lifeblood of our business.
"We are undertaking a thorough review of postmaster remuneration, involving postmasters, our commercial partners and the National Federation of Sub Postmasters.
"We have also increased the remuneration that benefits our community branches, and others on fixed remuneration.
"These branches, often the last shop in a village, are where Post Office services are incredibly important.
"We know we still have a great deal to do, we are committed to ensuring our postmasters are fairly rewarded and that our customers have easy access to the vital services they offer for years to come."
A spokeswoman for the Scottish Government said: "The Scottish budget maintained the most generous package of reliefs in the UK, worth over £750 million and ensures 90% of properties in Scotland, including all small and medium-sized businesses, will pay a lower poundage than they would in other parts of the UK.
"Property valuation is carried out by independent Scottish assessors and ministers have no locus in that process.
"We've given powers to local authorities to allow them to introduce their own local rate relief systems based on local circumstances as they see fit."