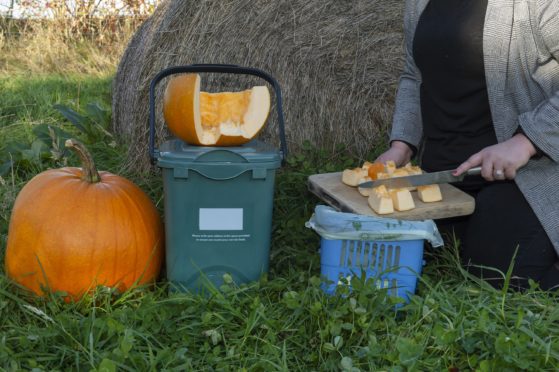 Aberdeenshire Council is urging residents to divert their pumpkins and turnips from landfill by cooking them at home and putting any leftovers in their food waste caddies.
Approximately 18,000 tonnes of pumpkins are sent to landfill every Halloween in the UK.
According to Aberdeenshire Council, around one fifth of materials put into non-recyclable waste bins across the county is food waste, half of which is still in its packaging.
In addition to pumpkins, other materials that can go in your food waste caddy for recycling include peelings, leftovers, expired food, bones, tea bags, coffee grounds, kitchen roll and eggshells.
Food waste recycling also costs less than sending waste produce to landfill, alongside its obvious environmental benefits.
Aberdeenshire Council's Waste Manager, Ros Baxter, said: "We are continuing our efforts to reduce the amount of food waste being sent to landfill, which will ultimately benefit the environment and save taxpayers' money.
"Pumpkins are an avoidable food waste item that can be transformed into a delicious soup, curry, or dessert.
"We encourage householders to have fun with their pumpkins and try a new recipe this season.
"We will be sharing delicious pumpkin recipes and other Halloween-related information on our social media platforms, so please keep an eye out for upcoming tips and recipes this month."
Any and all food waste collected in Aberdeenshire is to be sent to Keenan Recycling, where it is converted into compost and used on farmers' fields across Aberdeenshire.