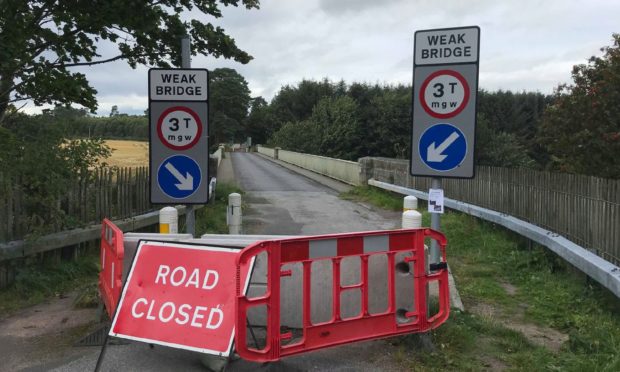 The Scottish Government should step in to help fund repairs of a vital Deeside bridge after it opted to do so in Moray, an MSP has argued.
The 160-year-old Park Bridge near Drumoak is currently closed to drivers after inspectors ruled it unsafe.
Drivers have to make an eight-mile diversion via Durris Bridge in Crathes – prompting anger from the local communities.
Last month, the Scottish Government agreed to cover the £500,000 repairs for the crumbling East Beach crossing in Lossiemouth which closed at the start of the summer due safety fears.
Waterfront businesses had reported a significant hit since its closure.
In a parliamentary question, Aberdeenshire West MSP Alexander Burnett asked Transport Secretary Michael Matheson if the government could also cover the repairs to Park Bridge.
However, he has been told bridge repairs are the "responsibility of each local authority".
Mr Burnett said: "The Lossiemouth bridge is obviously a good project, but the Park Bridge is no less important to its community.
"But Mr Matheson neglects to explain why one gets funded by the sitting government, and the other doesn't.
"He believes his government have given our local authorities plenty of money for bridges, despite north-east council budgets being slashed by £40 million alone last year."
A spokesman for the Scottish Government said: "We have received no request from Aberdeenshire Council for additional funding on this issue.
"The Scottish Government has ensured our partners in local government receive a fair funding settlement, despite further cuts to the Scottish Budget from the UK Government, delivering a funding package of £11.2 billion for all local authorities in 2019-20.
"This is a real-terms increase of more than £310 million for essential public services in Scotland."