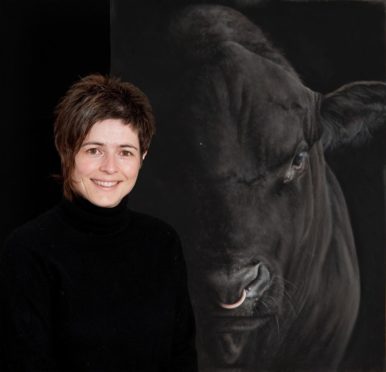 A self-taught artist who works from a steading in Aberdeenshire is thrilled after a print that originally sold for £195 was snapped up for more than 10 times that this week.
Angela Davidson created a portrait of a brooding black bull in 2009, and prints of the Black Angus were sold for £195.
But 10 years later, the piece has soared in popularity – with a limited edition print this week selling for £2,600.
"It was very surprising to see it go for so much," she said.
"I really was chuffed. I'm self-taught but have always been inspired by animals, I'd sketch them when I was small but never knew I'd actually could become an artist.
"I did Black Angus in 2009 and I knew I wanted to create something big and eye-catching."
Despite recent success, the last decade has not been without challenges for Mrs Davidson.
In 2010, she was diagnosed with breast cancer and was forced to pack away her pastels and acrylics after temporarily losing mobility in her fingers.
"I had to halt art for a spell," the 50-year-old said.
"The chemotherapy affected my fingers and the pain forced me to stop, it was wicked."
Orginally from Aberlour, Mrs Davidson now runs her art business from a converted steading near her home in Insch.
Husband Sandy helps in selling her work.
He said: "We had to take stock of everything and throttle back after her diagnosis, but she's back to full force now.
"It is very interesting to see the success of the Black Angus.
"I'm unaware of any other artist – apart from those who might be tagged a celebrities – whose work has increased in value as much as this talented lady who works in a cauld, wet field in rural Aberdeenshire."
In recent years the husband-and-wife team have also given generously to the Great Ormond Street Hospital for Sick Children.
Their son Lawrie has been saved by the hospital's craniofacial unit numerous times, and to show their appreciation they have raised £15,000 through art raffles over the last decade.
And last month it was announced Mrs Davidson's piece No Turning Back would be hung in the building's Koala Ward, to offer solace to young people receiving treatment for craniofacial issues, neurological problems, epilepsy or awaiting brain or spine surgery.
The piece features Clydesdale horse Jake, who 13-year-old Lawrie has struck up a strong bond with while visiting him at Strathorn Stables when he was a toddler.
Jake has now moved to Orkney, but the family still visit.
No Turning Back represents Lawrie's journey along the road of life aided by his much larger, older and powerful four-legged companion.
Mrs Davidson added a further meaning to the emotive piece, as the surface the pair are traversing features the one repeated sentence "life can take you anywhere".
To find out more about Angela Davidson go to www.angeladavidsonart.co.uk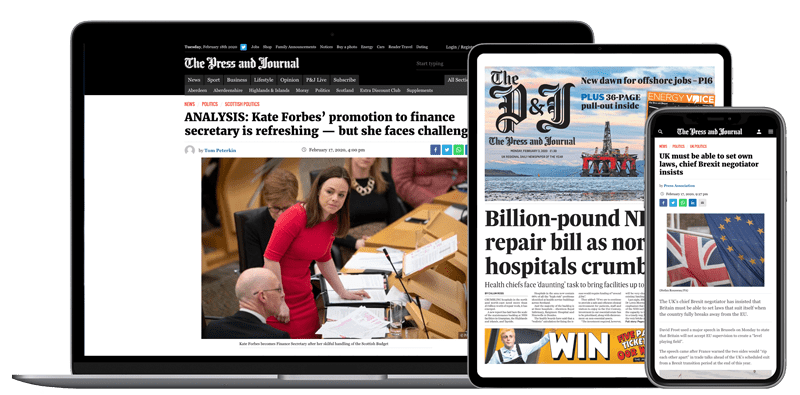 Help support quality local journalism … become a digital subscriber to The Press and Journal
For as little as £5.99 a month you can access all of our content, including Premium articles.
Subscribe