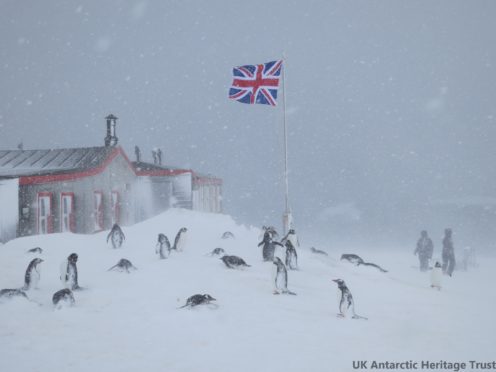 A woman from an Aberdeenshire fishing village is preparing to travel more than 11,000 miles to the world's most southerly post office.
Once off the Antarctic Peninsula, Vicky Inglis will spend months stamping letters and monitoring the resident Gentoo penguin colony.
Ms Inglis, originally from Gourdon, is one of just five team members from the UK who will travel all the way to the remote island of Port Lockroy to work in sub-zero conditions.
She has been applying to work for the United Kingdom Antarctic Heritage Trust (UKAHT) for several years.
And after the disappointment of being turned-down previously, she is now finally preparing for the trip of a lifetime – by packing a great deal of warm clothing.
Ms Inglis, 39, said: "I've been to Norway and northern Finland before, but although they were quite far north into the Arctic Circle, you could still go to a shop if you needed something.
"This will be different. We're going to be all alone for quite some time, except for the visitors and penguins."
Port Lockroy, discovered in 1904, has over the years been used for expeditions, whaling, and as a research station until it was renovated in 1996 and turned into a museum and post office, operated by UKAHT.
As one of the few pockets of civilisation at the bottom of the world, the port receives visits from cruise ships touring Antarctica.
Around 18,000 tourists make the journey there every season to find out more about life on a scientific base in the 1950s and 60s and send postcards home.
Post office workers at Port Lockroy, where Ms Inglis will be stationed, handle tens of thousands of letters per season.
As well as operating the museum and post office, she will lead the wildlife monitoring project during the Austral Antarctic summer, which runs from November to March 2020.
Thousands of penguins surround the buildings at Port Lockroy and Ms Inglis and the rest of the team will be tasked with assessing the local penguin colony to understand the impact of environment change.
Gentoo penguins are the third largest species and are easily identifiable by their bright red-orange bills.
Ms Inglis added: "It's one of the most-visited locations in Antarctica and because of the volume of people visiting there is the potential they could cause a disturbance to the colony.
"My role will be to monitor the impact of tourism on the penguins."