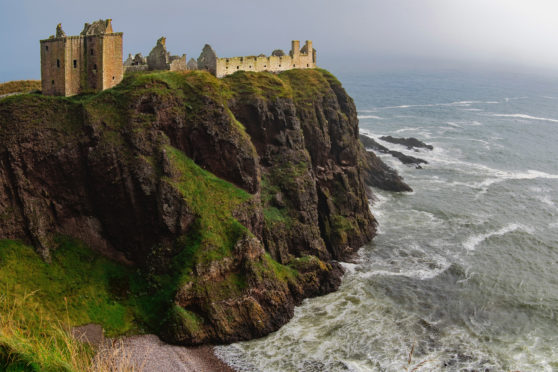 Stonehaven story-tellers will stage a series of online talks for school pupils in America's deep south.
Broadcasting live via a video link-up from Kinneff Old Church, members of the Aberdeenshire town's twinning group will tell the children at iAcademy Primary School in Athens, Alabama, the story of how the Scottish crown jewels were smuggled out of Dunnottar Castle.
The treasures were hidden under Kinneff Old Church's pulpit by parishoners during the mid 17th Century Cromwellian civil wars.
The sessions have been arranged to mark the recent twinning arrangement between the two communities.
Phil Mills-Bishop, chairman of the town's twinning group, said: "There will be six online half-hour sessions over the coming months. focussing on local history in and around the north-east of Scotland.
"This came out of the recent twinning and our visit in early August."
The American government's representative in Scotland, principal officer Ellen Wong, will welcome everyone to the online session from her office in Edinburgh.
Mrs Wong said: This event is a great example of the US- Scotland relationship and the people-to-people ties that make the relationship so strong.
"Young people are the future of that relationship, and it is fantastic that people of all ages are involved in the twinning of these great towns."
The towns of Stonehaven and Athens initially came together after Athens State University professor Debra Baird researched her family and struck up friendships in the north-east.