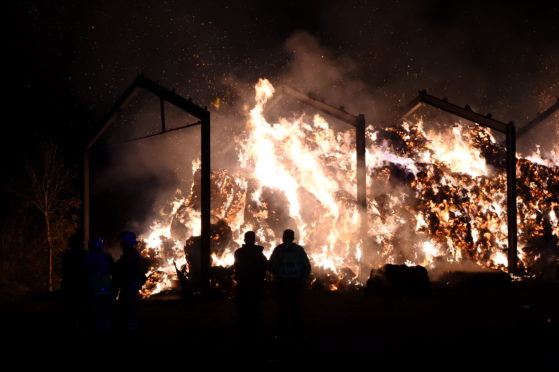 Police believe a blaze that destroyed an Aberdeenshire barn was started deliberately.
The flames that tore through Fortree Farm near Ellon on Saturday could be seen from miles around.
Firefighters spent hours at the scene ensuring the massive blaze did not flare up again, having been called out at 6.50pm.
Despite their best efforts, the farm's steading – containing dozens of hay bales – was destroyed.
And yesterday police confirmed their initial inquiries suggest the blaze was started deliberately.
A spokeswoman said: "Inquiries are continuing after a fire in a barn on a farm in Ellon.
"Police were called around 6.50pm on Saturday, October 26, and at this time the fire is being treated as wilful."
Ellon Councillor Isobel Davidson said: "It is devastating for anyone to lose possessions through fire and the owners at Fortree must be very concerned about the loss of buildings and hay which would feed animals over the winter.
"Those setting deliberate fires like this possibly do not realise the impact they have on peoples lives."
Shocked neighbours described the incident as a "huge loss" for the farm and added it would be "heartbreaking" for the farmer.
The owners of Fortree Farm themselves declined to comment.
Chairman of NFU Scotland's legal and technical committee, Jamie Smart, commiserated with the family and said the incident was just one stroke of a far darker picture across Scotland.
He said: "All aspects of rural crime, including arson, remain a blight on those who live and work in Scotland's countryside.
"The lengthening list of rural crimes being committed on a weekly, if not daily basis, also extends to vehicle and machinery theft, fly tipping, livestock worrying, livestock rustling, metal and fuel theft, hare coursing and vandalism.
"The impact of crime and the threat posed by criminal activity takes a huge toll on the health of those who live in rural areas."
Mr Smart, however, added that significant efforts were being made to track down those responsible and project farms and rural communities.
"Huge strides are being taken to address rural crime in Scotland," he said.
"The work of the Scottish Partnership Against Rural Crime (SPARC), of which NFU Scotland is a founding member, is tackling much of this head-on.
"Regional SPARC initiatives are now in place across much of Scotland, including the north-east, and regular farm-based meetings involving police  and other stakeholders have been held, providing farmers and crofters with information and tips on how to combat all crime at a farm level and keeping property, goods and livestock safe."
North East region Scottish Conservative MSP Peter Chapman added: "Arson puts lives in danger and any act of wilful fire raising would have to be treated with the utmost seriousness.
"I would urge anyone who was in the area who can help to contact police."
Martin Tait, the Scottish Fire and Rescue Service's Area Commander for Aberdeenshire and Moray, said: "At this time of year as Bonfire Night approaches, deliberate fire setting is a needless drain on our resources, when we need to focus on responding to real emergencies where lives might very well be at risk.
"We will continue to work in close partnership with our police and local authority partners to ensure that those responsible are held to account for their actions."
Anyone with information relating to Saturday's fire is asked to call 101 or Crimestoppers anonymously on 0800 555111.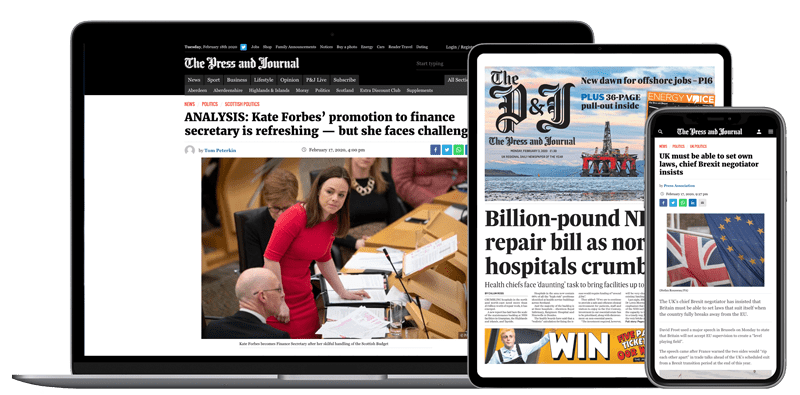 Help support quality local journalism … become a digital subscriber to The Press and Journal
For as little as £5.99 a month you can access all of our content, including Premium articles.
Subscribe