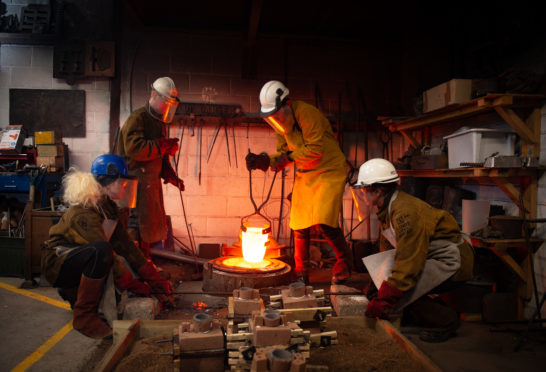 Artists are preparing to break the mould this weekend to celebrate a sculpture workshop's 40th year in the heart of rural Aberdeenshire.
Scottish Sculpture Workshop, which every year hosts artists, makers and creatives from across the country and as far away as Japan and the US, was first opened on the site of a former bakery in Lumsden in 1979.
Since then, the project has grown to become one of the top destinations in the country for those wishing to practice ceramics, painting, sculpting and all manner of other disciplines.
And this weekend, the team will mark its anniversary two days of fun, food, fire and creativity designed for both artists and members of the public alike.
As part of the celebrations, they will host workshops for residents living in and around Lumsden and nearby communities, where they will be invited to try their hand at making their own art.
But the highlight of the event will be a special iron-pouring ceremony on Saturday night, where the work yard will be lit up by the burning glow of molten metal as it becomes encased in moulds.
Sam Trotman, the director of the workshop, said: "This weekend we're turning 40, and it really feels like an important moment to celebrate because we're spending a lot of time thinking about the future of our site, and we'll be discussing a lot of our plans for future developments with everyone over the weekend.
"But the most significant part of the celebrations will be to mark all of the important things that have happened here over the past four decades.
"It's a space for artists to live, learn and create together."
Ahead of the weekend's events, artists in residence at the site have been working hard to prepare, including Letitia Pleiades, who yesterday carefully filled a series of bell moulds with molten bronze.
Ms Trotman added: "The project has always been about supporting artists collectively and in a time where art funding is more and more difficult to secure, and there's increasing pressure on artists to commodify their work, we really need to push back and create spaces like Scottish Sculpture Workshop."
To find out more about the workshop and see the full programme, visit www.ssw.org.uk