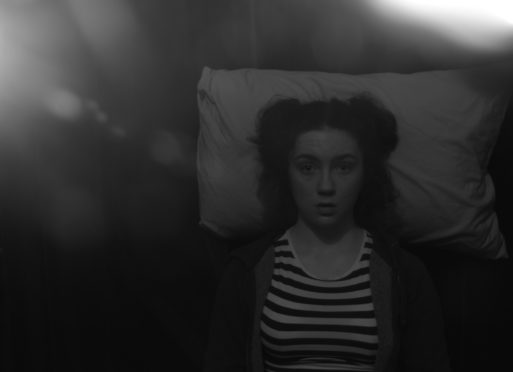 Brenna Collie was aged just 14 when she was suffered a devastating stroke.
The Aberdeenshire teen has had to rebuild her life but is back at school and excelling in her classes.
In the years since the stroke, she has drawn inspiration from that trauma and used it in her work.
And now her Higher Photography portfolio, based on how she felt on the night of the stroke, has been shortlisted in the Young Photographer section of the Scottish Portrait Awards 2019.
She said: "It feels a bit surreal, I don't think its actually sunk in yet.
"In the photo, there's torches shining into the camera, mimicking the doctors that were surrounding me. I've tried to tell the story of my recovery through it.
"It is quite a personal photo but by submitting it I hope to raise awareness of childhood stroke and let other people know that they're not so alone."
Miss Collie was praised in parliament by Aberdeenshire East MSP Gillian Martin for getting through to the finals.
She tabled a parliamentary motion congratulating the budding photographer and recognising her charity work with the Stroke Association of Scotland.
Ms Martin said:"Brenna has shown such resilience and determination after her life-changing stroke, she is truly an inspiration to us all.
"Her photographs are both powerful and moving, but also share an important message that strokes can affect anyone at any age."
The Strichen teenager said she was "surprised" to be mentioned in parliament but noted that it was "quite cool."
Miss Collie has been raising awareness of the devastating impact strokes can have, particularly among children and young people following her own experience.
She has raised vital funds for the Stroke Association and took part in a "Step Out for Stroke" walk for the charity.
Angela Macleod, from Stroke Association in Scotland, said:"Brenna had a devastating stroke at the age of 14.
"She has worked hard to rebuild her life and is back at school sitting exams and enjoying sport – a passion of hers.
"It's the resolve people like Brenna show that will inspire others to rebuild their lives after stroke."
Miss Collie added: "I feel quite honoured in a way to even make it through to the final.
"I was surprised I was picked because I've seen some of the other work submitted and it was all amazing.
"My entire family are all very excited and I'm proud to have gotten this far."