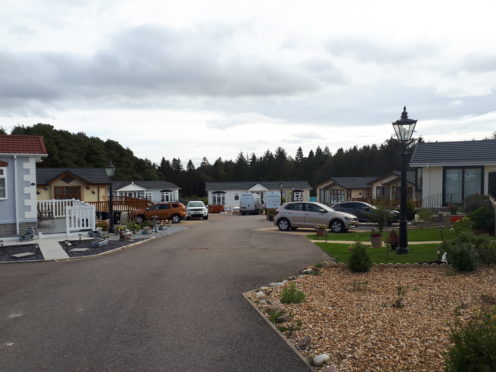 A group of Aberdeenshire pensioners have accused the council of "playing with their lives".
Earlier this year, the authority's enforcement team received complaints that people were living at Hillhead Caravan Park, near Kintore, despite a planning condition forbidding such use.
The owners sought permission from Aberdeenshire Council to allow the residential use of caravans but the Garioch area committee ruled that it was "unacceptable" for people to use the caravans as permanent homes.
Now the group of pensioners – the average age on site is 66 – have claimed they have been "left in limbo" with no clear information as to whether they will be evicted.
They maintain they were sold the buildings under the pretence they were permanent homes – and that information online, in paperwork and in person made no suggestion of holiday home conditions.
The residents pay council tax and are registered to vote at the addresses.
Four of the residents have recently been widowed and are living on their own, while others have disabilities. They claim they have been "taken advantage of" by park bosses and the council.
A homeowner speaking on behalf of the residents association said: "We're in limbo and potentially could become homeless as a result of this.
"Many people here are old and vulnerable and the stress is overtaking their lives.
"It is one thing to expect everyone to find somewhere to stay for two weeks of a year if residential licences are revoked but some don't have anywhere to go – and surely having the caravan park empty for a guaranteed amount of weeks per year is an open invitation to thieves."
He added: "From day one we had no idea we were doing anything wrong – we just want to stay in our homes and enjoy the time we have left.
"A large number of the residents just couldn't afford a second home.
"These are real lives being played with – it isn't fair."
Dean Burgess, park manager of Hillhead Caravan Park, said bosses were discussing appealing the council's decision.
He said: "We have no intention of evicting anyone.
"We understand why residents are frustrated and we are waiting on the council's next step before we proceed.
"But our intention is to do whatever we can for these people."
Mr Burgess added that similar issues are prevalent across Scotland as a result of "increasing government changes."
A spokesman for Aberdeenshire Council said: "While the appeal period relating to the Hillhead site is ongoing, no further action will be taken.
"All residents have been informed in writing of the processes which would be followed should an appeal be unsuccessful or if this is not brought forward by the owners of the site.
"The report to Area Committee made clear that these mobile units were not permitted for use as permanent, residential homes.
"While we appreciate this is now a challenging situation for all involved, granting planning permission for this site to become a residential area would be a major departure from policy and sets a precedent.
"Our trading standards team has been working to prevent any further mobile homes on the site from being mis-sold and would urge anyone considering a major purchase like this to take legal advice before doing so."
Aberdeenshire West MSP Alexander Burnett has been supporting the residents, and now plans to write to Housing Minister Kevin Stewart about the issue.
He said: "Across Scotland, prospective park home buyers aren't being given the information they need to make an informed purchase.
"Their dream homes can quickly become a nightmare.
"Hillhead is just one example where residents could be left tens of thousands of pounds out of pocket."
The Hallforest Hillhead Park Residents Association will meet with the council on Friday.