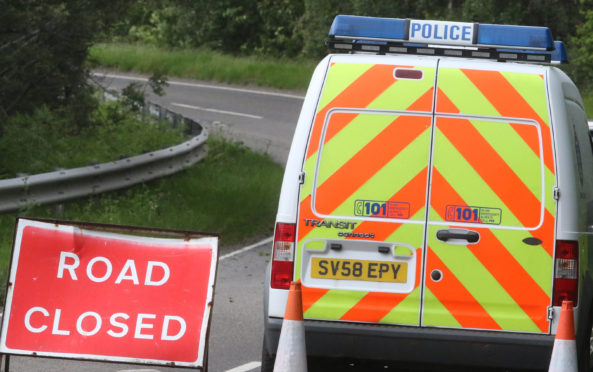 The "alarming" number of accident deaths on Scotland's roads has led a charity to call on communities to do more.
Analysis from the road safety charity Brake reveals an average of 34 people are killed or seriously injured on roads in Scotland every week.
In 2018, 161 people were killed and 1,582 seriously injured on the nation's roads.
The number of people killed in road crashes in 2018 was an 11% increase on 2017, up from 145.
The findings were published today to launch Road Safety Week, an important event for campaigners who are "Stepping Up for Safe Streets" and bidding to educate the nation about steps that could help to cut the numbers of death and serious injuries on the roads – such as 20mph limits in urban areas.
In recent months, increases in the number of road deaths in the north-east and Highlands have been described as "deeply concerning."
Just 2 days until the big launch of #RoadSafetyWeek 2019. During the week we will be encouraging everyone to 'step up for safe streets'. We and our partners @Kwik_Fit and @specsav3rs are ready to #StepUp, make sure you are too by visiting https://t.co/QARsS8pStf pic.twitter.com/rfepfFAjyN

— Brake (@Brakecharity) November 16, 2019
Joshua Harris, director of campaigns for Brake, the road safety charity, said: "These findings paint an alarming picture of the danger on Scotland's roads and yet it's what we're all exposed to, every day, when getting about.
"We shouldn't have to accept this level of risk as part of our daily lives and so we are calling on everyone to "Step Up" for Road Safety Week and shout out for the solutions that we know can make our roads safe."
Brake is suggesting that people choose to leave the car at home, to help improve safety and air quality, or pledge to be a safe driver, always keeping within speed limits and never drinking or taking drugs and driving.
Road Safety Week 2019 partners, Scottish Water, Kwik-Fit and Specsavers, are also backing the campaign for safe streets, with Kwik-Fit offering free vehicle safety checks at more than 600 centres across the UK and Specsavers touring a virtual reality driving experience, to encourage people to make sure their eyesight is good enough for driving.
Today is World Day of Remembrance for Road Traffic Victims. In the UK every day 5 lives are tragically lost on our roads, every life lost is one too many. We remember them. #WDoR2019 pic.twitter.com/Vwge2j2fOd

— Brake (@Brakecharity) November 17, 2019
Scottish Water has a series of events planned at its major sites across Scotland.
Brake's is also encouraging communities to take part in a survey about the safety of the streets where they live, by going to www.roadsafetyweek.org.uk/survey.
Its analysis has found that 28% of adults in Scotland say they have been involved in collisions or near misses.