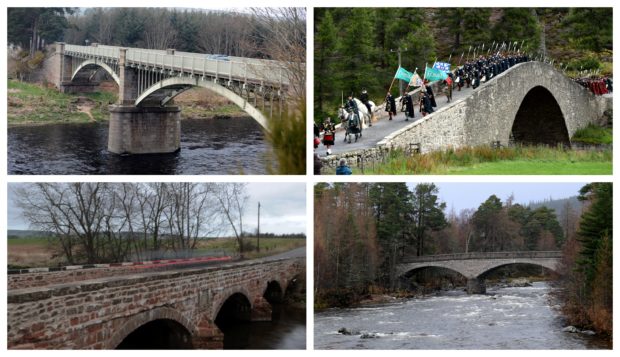 More than 60 bridges across Aberdeenshire will be closed within a decade unless they are repaired or replaced.
New data has identified the bridges Aberdeenshire Council has identified as a priority for funding, using a red, amber and yellow flag system.
The local authority previously revealed it has an annual bridges budget of £1.6million, but questions have been raised over what that sum could actually achieve.
For example, estimates for Park Bridge at Drumoak – which has been red flagged – are £1.7million alone.
The other red flagged bridges – which mean they are either already closed or will be by 2025 – are: Invercauld and Gairnshiel, both Deeside; Bogmill, near Fettercairn; Kinnairdy, near Aberchirder; and Ribrae, near Forglen.
There are a further 55 of Aberdeenhsire's 1,302 bridges flagged amber, meaning work is needed in medium term or closure will be imminent by 2030.
Last night, Aberdeenshire West MSP Alexander Burnett urged the Scottish Government to help address the region's "bridges backlog" by providing the authority with financial assistance.
But the Scottish Government insisted there had been a "fair funding settlement" and that the budget on bridge spending is up to each authority.
Mr Burnett said: "The worst-affected bridges go right across Aberdeenshire and the red-flagged ones need work now.
"But the council needs some consideration from the SNP government to do so.
"Aberdeenshire has to maintain the second-longest roads network in Scotland but doesn't get a fair deal from Holyrood.
"I have asked the Scottish Government to make some sort of contribution to the bridges backlog because there is no money once statutory services are funded.
"This region contributes far more to the Scottish economy than it gets back from the central belt."
A Scottish Government spokesman stressed each local authority agrees its own budget for bridges, adding Aberdeenshire has an additional £23.3 million from funding and the council tax increase compared to last year.
He said: "We have ensured our partners in local government receive a fair funding settlement – despite further cuts to the Scottish Budget from the UK Government – delivering a funding package of £11.2 billion for all local authorities in 2019-20.
"This is a real terms increase of more than £310million for essential public services in Scotland.
"Our 2019-20 budget set out an ambitious programme of infrastructure investment of over £5 billion, supporting jobs and the economy.
"This includes £1.7 billion for investment in our transport infrastructure."
Banffshire and Buchan MSP Stewart Stevenson said: "Safety is clearly paramount so it is important Aberdeenshire Council prioritise works where they are most needed in terms of available resources.
"I urge the Conservative coalition which leads Aberdeenshire Council to reflect the needs for urgent bridge repairs as they set their local budgets.
"The Scottish Government have also announced their support to Aberdeenshire Council through the Bellwin scheme and I am delighted that SNP government stands ready to assist following the recent damage caused to bridges by flooding."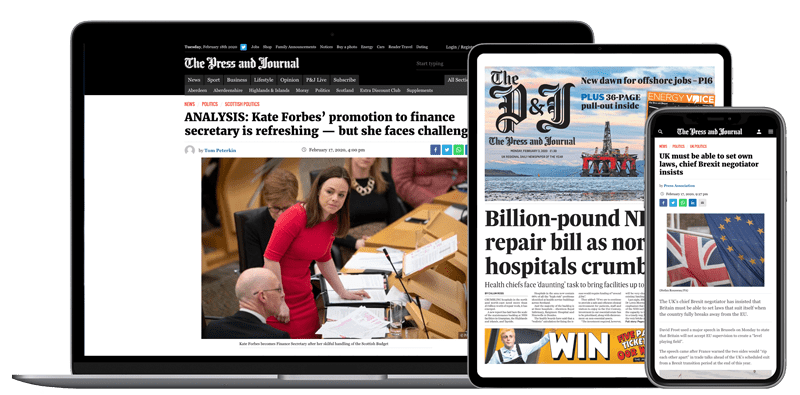 Help support quality local journalism … become a digital subscriber to The Press and Journal
For as little as £5.99 a month you can access all of our content, including Premium articles.
Subscribe