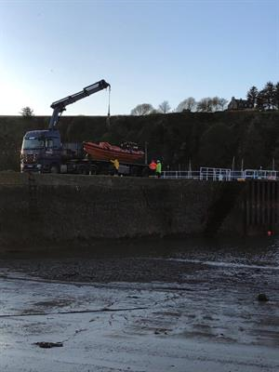 A north-east lifeboat crew has watched its vessel disappear into the distance for the last time.
Stonehaven RNLI's Miss Betty has made way for a larger and more powerful replacement Atlantic 85, costing hundreds of thousands of pounds.
The Aberdeenshire crew is currently training on a relief vessel before their brand new boat, Jamie Hunter, arrives towards the end of the year.
Miss Betty, an Atlantic 75, was winched out of the water and has begun a journey, by road, to Poole.
She was the last of its kind in use in Scotland.
The 85 model allows for an extra crew member on-board and hold more kit.
Among the additions are radar, which should aid volunteers in poor visibility, and direction-finding equipment VHF.
It also carries a full suite of communication and electronic navigation aids, as well as a searchlight, night-vision equipment and flares for night-time operations.
The lifeboat is powered by two 115-horse-power engines and has a stronger hull and greater top speed of 35 knots.
Lifeboat operations manager Andy Martin said: "We are all sorry to say goodbye to Miss Betty.
"The Atlantic 75 has been a great lifeboat and kept many people safe, but we are proud to be the custodians of this new lifeboat that will allow our volunteers to save many more lives in the years to come."