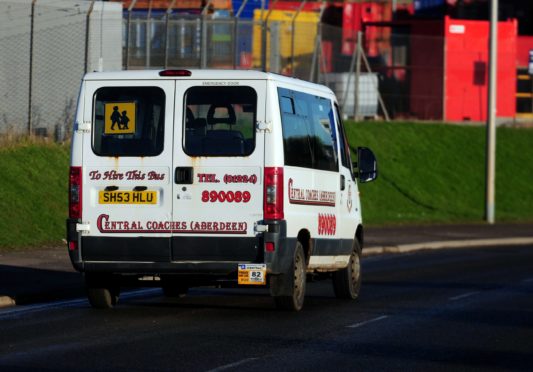 Aberdeenshire Council could give hundreds of north-east pupils access to free school buses next year – to save £9million.
Earlier this year, the council discovered their contractor's fleet of 121 school buses did not meet government standards.
Aberdeenshire Council, along with many other local authorities in the UK mistakenly thought that school transport would be exempt from Public Service Vehicle Accessibility Regulations (PSVAR) which come into effect on January 1.
To meet regulations, their contractor's fleet will need to be replaced by January 1, despite many only allocated contracts in August.
Now councillors have been advised that sticking to current arrangements would result in a  "very high risk of legal challenge".
Officers have recommended that instead of paying out £9million bring the fleet up to scratch, offering up free transport would get round the issue – as PSVAR only relates to vehicles where a fare is paid.
The offer would be made to the 1,275 pupils who currently privileged seat – meaning those who pay for a spare seat if they are not entitled to free transport, perhaps due to the distance they live from their school or if they go to one outwith their catchment area.
Education director Laurence Findlay tells councillors in a report: "The costs involved in such vehicle acquisition would be extremely significant.
"It would be impracticable for operators to source that number of vehicles in the timescale available.
"It is understood that the majority of UK education authorities with a similar policy position are considering discontinuing in order to conform to PSVAR requirements."
Last night, an Aberdeenshire Council spokesman added: "This GB-wide misunderstanding has been recognised by the Department for Transport who has recently introduced a process for seeking vehicle exemptions, but this does not provide a solution to meet all circumstances in Aberdeenshire."
Currently, free transport is only offered to those who live over two miles walking distance from their primary, or three miles from their secondary school.
Free school transport is also provided for children with additional support needs.
But while removing the charge for privileged seats would get round the legislation, it will add to the authority's budget concerns.
The report to members of the education committee state: "The proposal to withdraw charges will result in a budgetary pressure for hired transport of around £165,000 per annum.
"For the current financial year, it is estimated that the loss in revenue will amount to between £40,000 and £50,000."
Charges will remain, however, for the use of buses operated as services to the general public that go via schools. These include routes to Newtonhill, Portlethen Academy, Macduff Academy and Banff Academy.
The council's education and children's services committee will be meeting on Thursday to discuss the plan to roll it out to all pupils.
If agreed, the council would also continue to operate free home-to-school transport to pupils with additional support needs and pupils on educational and/or medical grounds.
The background
Currently, Aberdeenshire Council charges for privilege school transport – the term used for a spare seat on a bus that a pupil can ask to use if they are not entitled to free school transport.
The current charges are £114.60 per annum for primary pupils and £179.40 for secondary pupils, with discounts available for those on low income and families.
Under the proposals to be discussed by the council's education committee on Thursday, all "dedicated" school transport – buses which cannot be used by members of the public – would become free, with the majority of privilege transport pupils automatically becoming entitled to free transport on safety grounds.
From the start of next year, a coach used on a scheduled service, with a few exceptions, must provide wheelchair access and meet general accessibility requirements in such areas as step and seat dimensions, markings and handrails.
Under the proposals, Aberdeenshire Council would continue to provide free home-to-school transport to all primary pupils who live more than two miles from and attend their zoned school and to all secondary pupils who live more than three miles.
Pupils would be required to continue using their existing bus passes.
If agreed, the council would also continue to operate free home-to-school transport to pupils with additional support needs and pupils on educational or medical grounds.