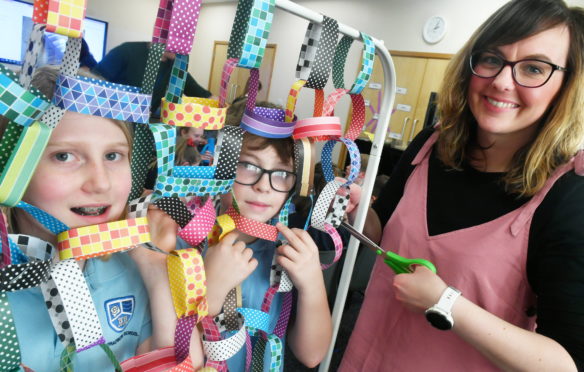 Pupils at Stathburn Primary in Inverurie had an encounter with world-class art on Tuesday as part of the largest ever sculpture project undertaken in the UK.
A piece entitled Studio Grid, made by former Gray's School of Art graduate Julia Gardiner, was loaned from Robert Gordon University's art and heritage collections to the school.
The boxed construction, created in 2013, contains intricate shapes meticulously crafted from hand-made paper recycled from pulped newspaper.
Alongside the sculpture's visit, primary six and seven pupils were treated to creative workshops run by local artist and paper sculptor Anna Shirron, also a Gray's graduate.
Taking inspiration from the sculpture, Ms Shirron, from Aberdeen, tutored pupils in creating their own weavings, 3D structures and wall hangings, all from colourful paper.
She said: "The kids really got a lot out of it – and really did seem to be proud of what they'd made.
"I loved being a part of this and getting the chance share Julia's work with them.
"It was great to see kids getting to experience a physical piece of art and then responding to it directly in the same space.
"Normally this could only happen in a gallery, so it's brilliant for a shire-based school to have an art work come to them."
The Masterpieces in Schools event, organised by Art UK is part of a national learning and engagement programme which launched in 2018 – part of Art UK's ongoing sculpture project.
The unique initiative takes sculpture out of the museum and into classrooms, to bring children and young people into direct contact with practising artists who showcase their sculptures on site and deliver a sculpture tutorial.
Also, our Learning & Engagement team will be doing activities around the country, including our Masterpieces in Schools project bringing works into classrooms. Keep an eye out to find out what's happening near you! https://t.co/aGN17Z1S7z

Photo credit: Art UK and @LeedsMuseums pic.twitter.com/WU241Lr2jS

— Art UK (@artukdotorg) February 22, 2019
Andrew Ellis, Art UK Director, said: "Masterpieces in Schools is a hugely rewarding initiative for schools and museums alike, and with school visits to museums on the decline, taking art into schools is all the more vital."
And George Cheyne, collections assistant at RGU Art & Heritage Collections, said: "Art UK have provided a wonderful opportunity for children to experience this beautiful art work by Julia Gardiner from the university collection.
"We all enjoyed a fun day with another Gray's School of Art graduate, professional artist, Anna Shirron.'