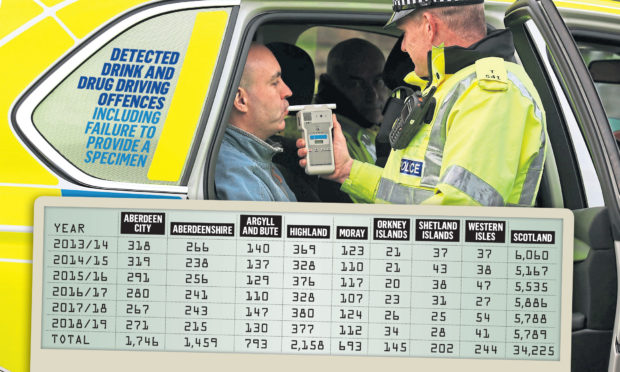 A police chief has said there can be "no let up" on drink-driving after new figures revealed there has been little decline since the legal limit was lowered.
On December 5, 2014 the legal drink-drive limit in Scotland was lowered from 80mg of alcohol in 100 millilitres of blood to 50mg – the lowest in the UK.
But although figures suggest that initially there was an immediate drop in detection rates, they have steadily climbed again – with only 260 fewer cases recorded for 2018/19 compared to 2013/14.
Overall, the number of detected drink drivers has decreased in Aberdeen and Aberdeenshire over the last five years, and fluctuated up and down in Moray and the Highlands.
In Shetland, it decreased, while detections have increased in Orkney and the Western Isles.
The law change, which was backed unanimously by parliament, was brought in to cut drink-related roads deaths and discourage drivers from taking even just one drink before getting behind the wheel.
Figures from Police Scotland show a plunge from 6,060 drink and drug-driving offences in 2013/14 to 5,167 in 2014/15.
However, the figure has steadily increased, before plateauing at just under 5,800 for 2017/18 and 2018/19 periods.
Last night Chief Superintendent George MacDonald, divisional commander for the Highlands and Islands, admitted there is still work to be done to crackdown on the dangerous practice and change perceptions.
He said: "On average, we are still experiencing around 12 drivers per week in the north-east, and nine drivers per week in the Highland and Islands area that are failing to follow advice and guidance.
"For us, that is too many.
"There is no safe limit in relation to drinking and driving, and the analysis of the figures over the past few years indicates that drink-driving takes place right across the age and gender spectrum, and alcohol continues to be a feature in a number of fatal and serious road collisions that we attend across the entire north.
"None of us can be complacent, and the messaging, the enforcement and the support of the public to report those individuals who recklessly drive while under the influence of alcohol must continue, and there can be no let-up from our perspective."
Last year, a team from Strathclyde University claimed their research showed the reduced limit had little effect on reducing driving deaths, as well as accidents.
More than 1.1 million accidents, which took place between 2009 and 2016, were studied for the research, which included more than 1.5 million recorded casualties, and 14,000 fatalities.
It was established that in the two years up to the change in the law, Scotland had monthly accident rates of 740.63, and fatality rates of 14.96.
And in the two years following, the rates were 704.13 for accidents, and 15.25 for fatalities.
Last night, MSPs from all sides of the political landscape insisted lowering the limit was the right decision, and argued it has helped to change attitudes.
North-East Labour MSP Lewis Macdonald said: "Most people will adjust their behaviour if necessary to stay on the right side of the law, and these figures suggest that drivers are drinking less because of the lower legal limits.
"Enforcement is important, but it is never enough on its own, so it's still important to tell new drivers about the risks to themselves and to other people of drink-driving, and to make sure public transport is available for people who want to have a safe night out."
Aberdeenshire East SNP MSP Gillian Martin added: "Alongside our stringent drink-driving limits, Scotland's law enforcement agencies have the most robust powers in the UK to tackle impaired and unsafe driving in order to keep people safe.
"However, as we enter the festive season, the message is clear to everyone in Scotland that drink-driving will not be tolerated.
"It is the responsibility of all road users to make sure when they get behind the wheel of a vehicle they are tee-total."
Highlands Conservative MSP Jamie Halcro Johnston said: "The initial reduction in offences was positive, but it is concerning that the overall figures have not continued to fall in recent years."
Changing times
When the law came into force five years ago to lower the blood-alcohol limit in Scotland, it made the country the most risky place in the UK to commit the crime of drink-driving.
Before the limit was reduced, drivers north of the border could typically have one drink, depending on their age, gender, body type or other factors, and still pass a breathalyser test.
However, with the stricter rules, it is now difficult to have anything more than a half pint of lager – and even then, the risk is still high that drivers could be over the limit.
Neil Greig, policy and research director for the road safety organisation IAM Roadsmart, formerly the Institute of Advanced Motorists, said there is still work to be done to reduce the reckless behaviour of drink-driving.
He said: "IAM RoadSmart have always supported a lower drink drive limit as it helps reinforce the 'none for the road' message and makes it so much easier for the vast majority of law abiding drivers to behave responsibly.
Motorists in north-east most likely to drink-drive in Scotland
"Our only concern five years ago was that the hardcore of drivers still willing to risk drinking and driving would continue to ignore any limit and unfortunately, these figures do seem to bear that out.
"There are no easy big wins on the horizon for drink drive enforcement but there is still room for improvement.
"For example, we are still waiting for the widespread use of roadside evidential testing equipment to cut down the admin around booking a drink driver.
"Some more joined up thinking around personalised drink drive rehabilitation programmes and the introduction of alcolocks (vehicle-mounted breathalyser devices that immobilise vehicles if driver is over the limit) will all help, but ultimately it remains a matter of personal responsibility for us all to not drink and drive."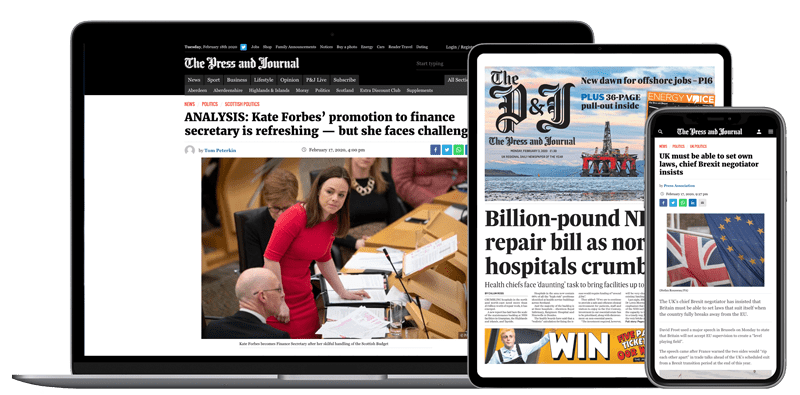 Help support quality local journalism … become a digital subscriber to The Press and Journal
For as little as £5.99 a month you can access all of our content, including Premium articles.
Subscribe