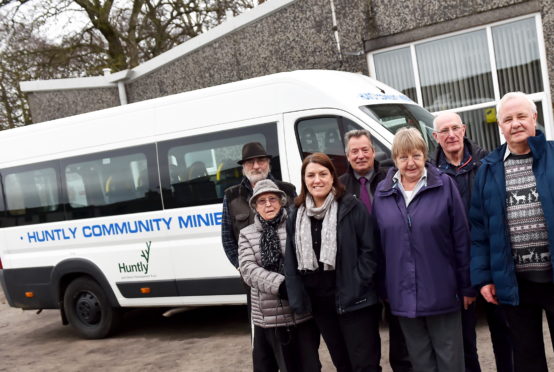 A north-east charity hopes a new minibus could help it expand its vital services.
Community groups across the north and north-east are once again competing to secure the coveted 17-seater bus.
For the fifth year in a row, The Press and Journal has teamed up with energy firm CNOOC International to give away the bus.
Among those hoping to secure its use is the Huntly Minibus Committee, also known as the Huntly Community Minibus, which has been running for about 30 years.
The charity currently operates a 15-seat minibus that takes members of the public in and around the town.
And it hopes a new minibus will open more doors for residents in Huntly.
Chairman Derek Alexander said: "Our services are entirely run by volunteers.
"At the moment we have five drivers, who generously give up their time to keep the bus on the road.
"We are a charity, so everything we get goes back into running costs. We rely heavily on fundraising activities, such as an annual coffee morning and donations from local organisations.
"The Rotary Club of Huntly have been very generous to us with donations and the local motor engineers G & L have been, and continue to be, supportive with the maintenance of the bus.
"We currently take senior citizens and people with additional needs wherever they need to go.
"Groups who regularly use our service include the church, Stroke Club, OAP's social clubs, local care homes and sheltered housing complexes. We are a vital service in the community.
"I think winning the new minibus would be beneficial for the entire community, so we could better serve them."
Mr Alexander said he has been rallying support locally to collect the tokens needed to bag the 17-seater bus.
Hundreds of organisations – including guides, bowling, golf, church, school and dance groups – took part in last year's competition with Orkney Gymnastics Club finally driving away with the prize.
To win the bus, the group is attempting to collect as many tokens as it can, before submitting them to The P&J, and is calling on the local community to help.
Every entry form must have 50 tokens attached and groups can enter as many times as they like.
Tokens will be printed in the P&J until February 1, so groups are being urged to act fast.
All tokens must be in by the closing date of February 10.