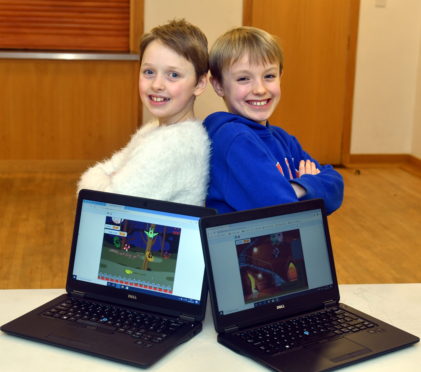 A pair of Torphins schoolchildren have wowed judges at a global coding competition.
Emily Richard and Harvey Pole joined more than 250 of the world's most talented young computer programmers, aged between 7 and 17, for a special CoderDojo challenge.
It tasked all the participants to take inspiration from the theme of bats, the colour orange, or the month of October to create their entry.
And Emily used her skills to create "Spooky Bounce" – a Halloween-themed game in which the player uses a witch's broom to repel falling pumpkins.
It was praised by judges who described it as an addictive and tricky "ping-pong" game.
CoderDojo is a global network of free computer programming clubs and Emily is part of the Everything Electronics class, run by the Cromar Future Group.
Fellow member Harvey Pole was among the competition's runners-up category in the age 7-10 category, with the pair's success hailed as "no mean feat for a small Club in Upper Deeside".
The Cromar Future Group was set up about five years ago to bring science talks and activities to the rural area, but it was only last year that Everything Electronic was established, operating out of the MacRobert Memorial Hall.
The class covers coding, robotics, graphic design, filming and electronics – with children travelling from as far as Banchory in one direction and Ballater in the other to attend sessions.
The group's founder, Lesley Ellis, said: "We were over the moon that Emily had come second in the competition, and when we realised that Harvey was right behind her among the runners-up, we were over the moon again.
"We think it is a cause for celebration when youngsters do so well in an internationally run competition."
Thanks James for coming to our Everything Electronic Youth Club. We are looking forward to finishing the monitors off and also tackling the remainder of them once they arrive. In the meantime for your followers, here are some pictures of the event.
Les Cromar Future Group pic.twitter.com/uVhsRPfqSI

— Lesley Jane Ellis (@les_future_grp) October 8, 2019
She added: "I've always loved science and I set up both the Future Group and Everything Electronic as it seemed to me local youngsters were missing out on some of the best careers available.
This gives them a head start towards a professional digital career.
"The club is very new – at just over a year old – and it has grown slowly as we are up against a lot of physical activities such as swimming and martial arts.
"Gradually though it has attracted a core of youngsters who really enjoy the mix of activities we offer.
"We have run our own coding competitions and have helped run sessions in schools at Braemar and Torphins and are about to do the same with Tarland school.
The group is desperate for any volunteers to lend their tech skills, whether it be in the field of coding, film or other tech fields.
Volunteers can contact us on info@futuregroup.org.uk.  www.futuregroup.org.uk/
And to play Spooky Bounce, go here
https://scratch.mit.edu/projects/340003488/