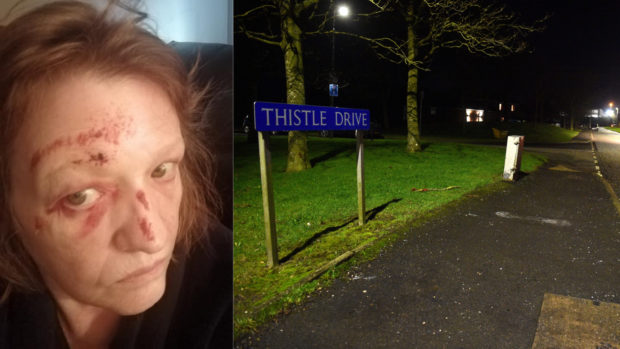 An Aberdeenshire woman who blames "dangerous" energy-saving streetlights for causing her to suffer a painful fall has urged the council to brighten up her community.
Pamela Knox plummeted down a set of stairs near her home on Thistle Drive in Portlethen and was left badly bruised just before Christmas.
She and other residents claim that newly installed energy-efficient lights are in fact making the town's street more dangerous.
The lights are also blocked in parts by overgrown trees – causing further shadow during winter nights.
Ms Knox, who lives with her partner Harry, wants to "warn" others of the dangers.
She said: "Our stairs from the car park are not visible at all in the dark.
"With no torch I thought I could judge the number I'd gone down, but I missed the last one and had a lovely shiner for Christmas."
She now hopes speaking out will encourage the council to restore the lights.
She added: "I feel that I do need to highlight the danger of these lights.
"I fear something serious will happen. Especially when it's icy, there is practically no visibility on this estate in the dark now – except for if you stand directly under a light.
"The issue is not only the danger of falling but the conditions it creates for muggers and the like. This village was very well lit before but it is now in darkness at night.
"There are so many tunnels and lanes that darkness makes people afraid to go about."
An Aberdeenshire Council spokesman stressed that the LED lighting used in the area is up to the required standard, but said improvements would be carried out at a certain spot.
He said: "Within this particular housing scheme there is a myriad of lanes and pends, the majority of which are not adopted for maintenance by the council, therefore we have no obligation to illuminate them.
"The majority of the areas now lit throughout Portlethen, using LEDs, comply with European and British standards but we continue to monitor the light levels in all areas which are ours to maintain.
"A scheme is currently being designed which specifically encompasses the area at the junction of Thistle Drive and Ninian Place, with new apparatus proposed, which will be put forward for inclusion in our 2020/21 draft programme of works."
Recently in Aberdeen, the council was forced to do repair lampposts after similar concerns in the Bucksburn area.