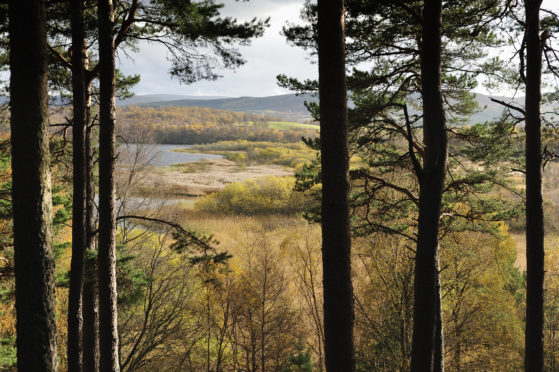 It has been a year for the north-east record books after a rare flower appeared on an Aberdeenshire nature reserve for the first time in nearly two decades.
The aspen trees at Muir of Dinnet last flowered in 2001, but this year, staff at the Deeside reserve recorded the blossom for the first time in 18 years.
Scottish Natural Heritage said the discovery allowed workers to tell the male and female trees apart because they have bronze and green flowers respectively.
The find was revealed as SNH reflected on a remarkable year for north-east nature.
The authority said 2019 was one of the best years for the diversity of another Aberdeenshire beauty spot.
Forvie National Nature Reserve is home to some 2,200 adult sandwich terns, who parented nearly 700 chicks this year.
Staff working at the protected site, north of Newburgh, praised the restraint of visitors, who kept their distance from the breeding birds in order not to disturb them.
Managers said their efforts were bolstered by volunteers and rangers giving their time to protect the wildlife.
A spokesman said: "Scotland's nature is special, and there is work happening every day to protect and enrich it.
"Now, more than ever, this work is crucial – with the declaration of the climate emergency – and it's also important for all of our health and well-being.
"We hope our work will inspire everyone to visit a nature reserve this Christmas or make a New Year's resolution to volunteer to help our environment."
Such community-spirited action was on show earlier this year at Muir of Dinnet – where volunteers from Aberdeen University and charity project Mountains and People made a difference.
Teams cleared vegetation from northern pools on the reserve, clawing back areas of open water for the first time in years.
The pools are home to northern, common blue, large red and emerald damselflies.
Elsewhere, work headed up by the RSPB bettered water quality and reduced the risk of flooding at the Moss of Kinmundy, near Peterhead.
Ugie Peatland Partnership, Scottish Water and SNH paid for restoration work to the bog, carrying out ditch blocking, remove two hectares of trees and restore eroded peat.
The work is part of a larger project to improve 20 sites around the River Ugie.