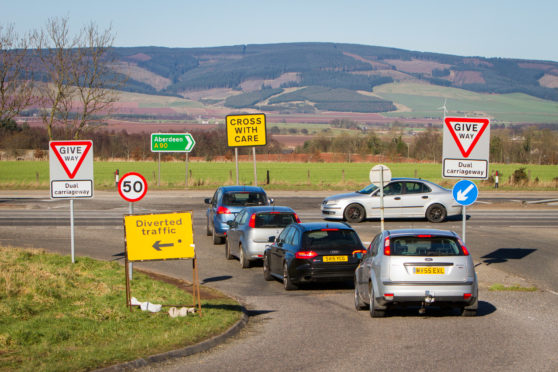 Safety campaigners have said there is no "no place for politics" as efforts to tackle a notorious accident blackspot progress.
Residents and drivers could experience disruption during overnight closures on the A90 Aberdeen to Dundee road while a new flyover is constructed at Laurencekirk.
The £300,000 project was announced in 2016 to improve safety for drivers following a number of serious accidents.
Four years on, two north-east politicians have raised concerns about the scheme's direction and warned it could be a time of "high stress" and "major disruption".
Locals have said everyone is aware there will be some form of disruption but say no-one will question it if the desired safety improvements are delivered.
Tory MSPs Liam Kerr and Andrew Bowie, who initially welcomed the investment, yesterday hit out at the lack of a timetable for the works to begin and accused the Scottish Government of not being upfront about the levels of disruption.
Mr Kerr said: "It's taken successive SNP ministers 15 years to get to this point and yet they have admitted they have no idea when work will start or finish.
"A spade hasn't hit the ground yet and already SNP ministers are neglecting the information provided by the consultants – it's extremely concerning."
Mr Bowie added: "It's clear traffic will considerably increase for residents in areas such as Laurencekirk.
"Residents need to know the full extent of the disruption caused by the work and I will continue to press ministers until I get proper answers."
Road safety campaigner Jill Fotheringham, who has fought for improvements at the accident blackspot for 15 years, dismissed the Tory concerns as "political point scoring" however.
She said: "We're all aware that there would have been some disruption in order to build the flyover, but the area is beyond dangerous.
"I don't think there is a person in the community who will argue against the overnight closures if we get this flyover built."
She added: "There's no room for politics in any of this, its a safety issue that's it.
"I can't understand what the Tories want. Do they not want the flyvover?
"They can't turn round at this hour now and say it will cause disruption, we've been campaigning 15 years."
Transport Scotland have stated that there are no planned permanent road closures or diversions that will affect Laurencekirk High Street as a result of the new grade-separated junction and that public exhibitions of the works are still ongoing.
Any temporary traffic management arrangements, including any temporary road closures and diversions, proposed will also be subject to consultation and approval by Police Scotland, Transport Scotland and Aberdeenshire Council.
A Transport Scotland spokesman said: "The next stage will depend on the public's reaction to our plans and whether there is any requirement for a local public local inquiry.
"Delivery of the scheme itself can only commence when the scheme is approved under the statutory procedures.
"Thereafter a timetable for construction can be determined.
"We will continue to push forward the preparation stages to deliver this scheme as soon as possible.
"Once complete, the new junction will bring improved road safety and economic benefits to road users and the local community in Laurencekirk and across the north east."