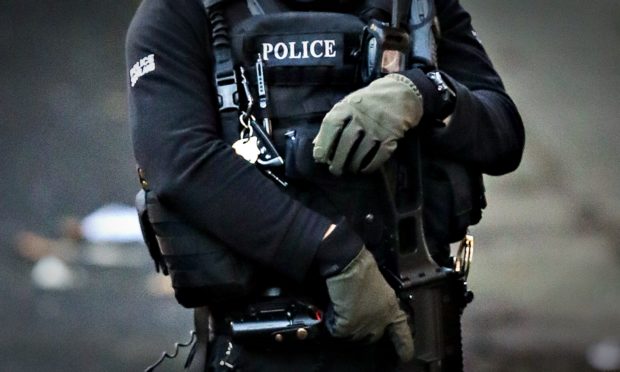 The full extent of the armed police presence on the Aberdeenshire estate where the Queen spends her summer holidays has been uncovered for the first time.
Force bosses said the rise was down to changes in how the deployment of armed officers around the monarch is recorded.
The number of armed police call outs on record has skyrocketed in the north-east as a result, with more in a six-month spell last summer than in all seven years combined since Police Scotland was formed.
Between April and September 2019, armed police were deployed in Aberdeen, Aberdeenshire and Moray 164 times.
Before the police rule change, records show armed officers were only used across the north-east divisional area 137 times since April 2013.
The figures, released under freedom of information legislation, also show that the north and north-east accounted for 49% of all armed police activity in Scotland in those six months last year.
Glasgow was second highest on the list of armed call outs but had only 54 within the same period.
The Queen holidayed at Balmoral Castle, in Ballater, from the beginning of August.
It is understood before the police reviewed their recording methods, all armed deployment around the estate during a royal residence would have been counted as one on the tally.
Head of armed policing in Scotland, Superintendent Stevie Irvine said: "The rise in deployment figures refers to a change in the recording of these deployments specifically in reference to royal residences in Deeside."
Shadow justice secretary and North East MSP Liam Kerr, who highlighted the rise, said: "The rise in the number of call outs requiring armed personal shows officers are always ensuring a high level of safety is maintained for themselves and members of the public at all times.
"Armed police also help events to run smoothly and reduce the risk of anything untoward happening.
"Police officers put themselves in harm's way to protect others and these figures recognise this."
Last year, a leading Aberdeen officer said that the resource-heavy policing of the Royal Court at Balmoral was impacting operations to tackle drug dealing in the city.
Separate freedom of information requests by this newspaper, looking to explore how north-east police resources were diverted to Deeside during the Queen's summer holiday, were turned down on national security grounds.
Police said disclosure could be "used and manipulated by criminal fraternities" to try and attack the royals.
A Scottish Government spokesman said armed police deployment was an operational decision for Police Scotland chiefs to make.