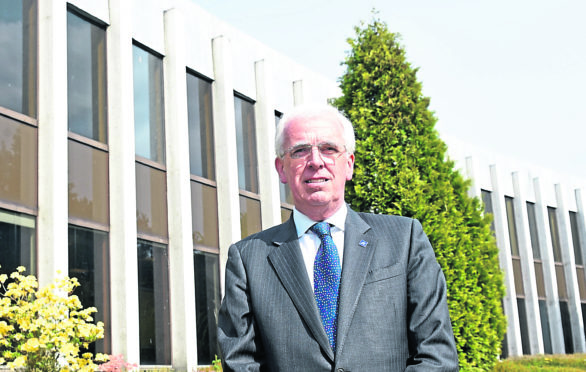 The leader of Aberdeenshire Council has revealed that the authority has avoided placing refugees in Peterhead and Fraserburgh due to "conflicts" between locals and migrants in the towns.
Jim Gifford was chosen to give evidence to the EU Home Affairs Select Committee on the local authority's refugee resettlement programme.
He was questioned on challenges in resettling migrants alongside Susan Elsmore – the Welsh cabinet member for social care, health and well-being – and Northern Ireland's head of the civil service Ian Snowden.
Mr Gifford said: "We had no experience of refugee settlement at all and, initially, we were using experience of other councils.
"We learned from their experience and instead of looking at resettlement as a housing issue, we put in place an education and community-based officer to look after the programme.
"They took a different approach to other local authorities, which served us very well."
Friends of Al-Amal Project is an Aberdeenshire based welcome organisation, working hand in hand with Al-Amal Project and the @aberdeenshire Refugee Resettlement Team 🤝♥️💪🏻 #NewScots #RefugeesWelcome pic.twitter.com/9boYu9KMak

— Friends of Al-Amal Project (@FriendsAmal) November 21, 2019
There are currently 200 refugees – or "new Scots" – in Aberdeenshire, with five council staff members assisting them in places like Ellon, Inverurie and Huntly.
Mr Gifford explained why the north of Aberdeenshire was avoided when drafting the programme.
He said: "They weren't placed in Peterhead or Fraserburgh because there, they've had a large influx of economic migrants, especially eastern Europeans in the fishing and farming trades.
"There's been a fair bit of conflict in those areas over the years, so we deliberately didn't look at those areas."
Mr Gifford told the committee that there had been "no real problems" with the programme and that, he believed, was partially due to recent history in the north-east.
He said: "Both Aberdeen and Aberdeenshire have seen people coming from all over the world in the last 30 years due to oil and gas.
"We've had no real problems – but misinformation is the biggest issue."
We welcome refugees – clear message from Aberdeenshire Partnership of SNP, Labour and Communities councillors #RefugeesWelcome pic.twitter.com/w7DA5SBEQP

— Alison Evison (@AlisonEvison) July 30, 2018