Passengers had to be rescued from a toppled bus after it was blown into a ditch amid high winds at the weekend.
Emergency services rushed to help people aboard Stagecoach's stricken Buchan Express service at about 6.45pm on Saturday.
It was travelling on the B9000 Ellon to Newburgh road, near the Newburgh slip road to the A90, when it was blown off the road by storm gusts.
The driver and passengers on the busy service largely escaped uninjured but had to be helped free from the bus – resting almost on its side – by passing motorists.
21-year-old Lewis Strachan from Peterhead was aboard the coach, travelling to see his girlfriend in Aberdeen.
He said: "It was one of the worst experiences of my life but it could have been a lot worse.
"There were nine of us on the bus including the driver. The wind was wild.
"I basically flew to the other side of the bus, bashing my head on the chair and window. I'm still sore now but as far as I can tell it's nothing serious.
"Everyone else was okay, except for a few bumps here and there.
"The police and ambulance crews were there really fast and were very accommodating – letting us stay in the ambulance out of the weather while they investigated the bus.
"It was at such an angle when it was in the ditch. If there hadn't been that hill on the other side of it I would say we would have been a lot worse off."
Mr Strachan said he was now a little wary of travelling by bus – ironic as he made his way home again, still in windy conditions, on the Buchan Express.
He added that Stagecoach were using a smaller single-decker bus.
Stagecoach tweeted on Saturday morning a statement that: "Due to weather conditions we are unable to use any high sided vehicles today but services are running as scheduled. Sorry for any inconvenience."
Due to the poor weather conditions and the continuing strong winds, it was impossible to immediately recover the bus.
It meant the road was closed to vehicles throughout the remainder of the evening and required a painstaking effort on Sunday morning.
It reopened after debris was cleared.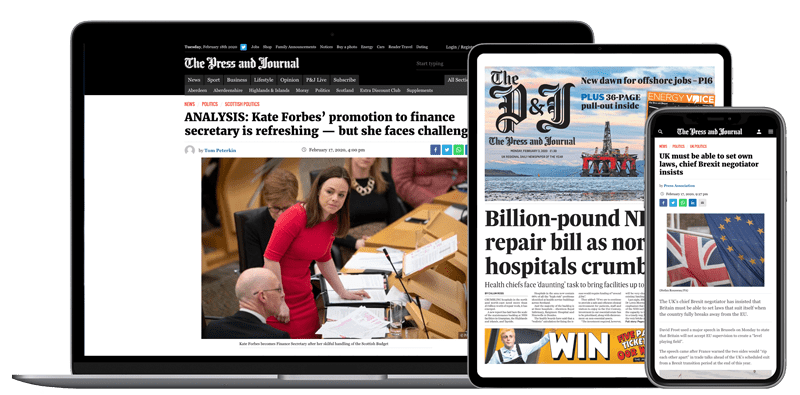 Help support quality local journalism … become a digital subscriber to The Press and Journal
For as little as £5.99 a month you can access all of our content, including Premium articles.
Subscribe