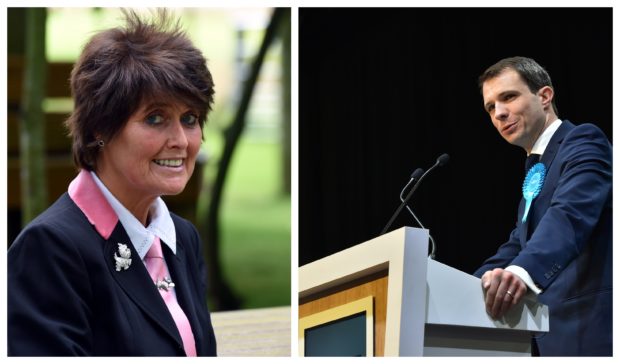 A poor season has left a north east farm "on its knees" amid claims the bank used by the family owners for six decades has pulled its support.
The father and son from Aberdeenshire say they have been forced to turn to charity for food stamps in order to feed themselves.
And they also face selling livestock and machinery in an effort to ensure the farm can survive.
In previous years of poor harvests they, like many other farmers on the edge, have had to rely on overdrafts.
But the family, who asked not to be identified, said this time the Bank of Scotland – which advertises itself as "agriculture industry specialists" – withdrew their business overdraft and the working capital the family needed to run the farm.
West Aberdeenshire and Kincardine MP Andrew Bowie, who has taken up their case, said: "This could happen to anyone".
The situation is said to be replicated elsewhere in the north-east and across Scotland, with NFUS reporting a number of farmers crumbling under the pressure of poor seasons and stuttering prices.
Where previously the Aberdeenshire father and son have paid off a £160,000 overdraft, after the latest bad season they found themselves being refused a £50,000 overdraft.
They have now been forced to request food vouchers from farming charity RSABI to help them put food on the table.
The pair said it has been a "nightmare."
The son said: "It has caused a huge stress on the entire family and is having a knock on effect on our suppliers.
"The bank has refused to come meet us. It has been a really a terrible time for us. We don't know what to do now."
They have taken to selling livestock to cover direct debits and insurance payments to protect their assets and fear having to sell vital equipment.
West Aberdeenshire and Kincardine MP Andrew Bowie met the family at a street surgery and has taken up their case with the bank.
He criticised a "trusted" High Street institution for claiming to be "agriculture industry specialists"
Mr Bowie said: "One bad harvest and a shortfall in earnings meant they needed a small credit facility to restore a bit of liquidity.
"Instead of listening to a family with 60 years of good relations with the bank, its 'experienced managers' have ignored their pleas for a renewed, modest overdraft.
"They are no different to many farmers in the North East and this could happen to anyone.
"It's not the behaviour of a trusted institution to leave a profitable business on its knees."
A Bank of Scotland spokesman said: "Bank of Scotland is a responsible lender and all decisions we make are based on a detailed understanding of our customers' finances.
"We have been in regular contact with our customer regarding their overdraft application and will continue to work with them to find a sustainable and affordable solution to their borrowing requirements."
Last year, researchers from the Robert Gordon University (RGU) began work with the farming community to explore their experiences of mental wellbeing.
Lorna Paterson, regional manager at the National Farmers Union for Scotland, said farmers were continuously fighting against "the pressures of form filling, copious inspections, red tape and financial losses," leading to them falling into a "dark place".
Last night, she said: "It is a sad situation for the farmers.
"They will get an uplift payment at the end of March. Most banks would be aware of that and I would have hoped they would be more sympathetic and understanding.
"Farmers have to deal with so many unpredictable factors in their day to day work – like weather – and I would encourage any struggling financially to get in touch with charities or the NFU so they aren't alone."