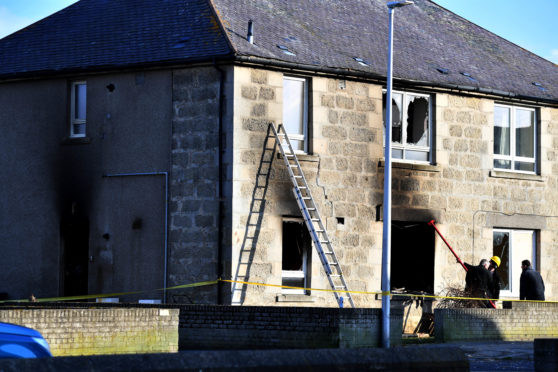 A fisherman was rushed hospital following a suspected gas explosion at a property in Fraserburgh today.
Raging flames and thick smoke could be seen billowing into the sky following the incident at a house on Moray Road just after 12pm.
Police, fire and ambulance crews assembled at the site within minutes, cordoning off the area surrounding the gable-end property while crews tackled the fire.
It was suspected to have been caused by a gas leak, but SGN said last night it was "not related" to its network.
The explosion victim, named locally as fisherman Jonny Tait, was seen "staggering" out of the property by bystanders.
He was taken to Aberdeen Royal Infirmary by ambulance, which was seen with a police escort as it headed south on the A956 Fraserburgh to Aberdeen road.
Police sealed off the entirety of Moray Road and part of Watermill Road while they extinguished the flames and worked to make the scene safe.
Reaction
Colin Jamieson, who lives across the street from Mr Tait, was one of the first to raise the alarm after hearing the explosion and feeling his whole house shake.
"I looked out onto the street to see what happened and there was all this debris lying across the road," he said.
"Smoke was pouring out of the windows of the house. It was complete and utter mayhem.
"The fire service arrived within two minutes of me phoning. They really were here very quickly."
One man, who works nearby, said he heard the bang and "ran outside" to see what had happened.
He said: "It didn't sound like an ordinary bang, but I don't know how I can describe it.
"I heard a man screaming in pain."
The extent of injuries Mr Tait suffered in the blast are not fully known but they are not understood to be life-threatening.
One of his close friends, Emma Barron, was left tearful and in shock at what had happened.
She said: "He kept a clean and tidy house. I had visited him last week and I wouldn't go into a house if I thought it was unsafe.
"I really don't know what's happened.
"He's such a caring person and I'm devastated for him. What has happened is just awful."
Ms Barron added that Mr Tait told her last week he had noticed a smell of gas inside his house.
Damage
Following the blast, large black scorch marks could be seen above the property's front door and ground floor windows where the smoke had escaped the property.
The energy from the explosion was enough to blow the glass and fixtures out of several of the windows.
Fire crews could later be seen propping up the lintel above one of these in order to prevent the hole left in the wall from caving in.
A large crack had also appeared, prompting fears from bystanders that the building could collapse, or require demolition.
Glass was left strewn throughout the garden of the property and across the road.
Some had reached parked cars on the other end of the street, "completely totalling" one and leaving another with broken side windows and dents in its doors and bonnet.
Emergency services 
A spokesman for the Scottish Ambulance Service said: "We received a call at 12.07pm to a fire on Moray Road, Fraserburgh.
"We dispatched two ambulance crews, our special operations response and our trauma team to the scene and transported a male patient to Aberdeen Royal Infirmary."
In the hours after the incident, a fleet of engineers was deployed to the area by SGN.
They checked over the property and carried out door-to-door calls to inspect neighbours' boilers as a safety precaution.
A spokesman for SGN gas company said: "We were called to a property in Moray Road, Fraserburgh, by the emergency services at around midday following reports of an explosion.
"Our engineers have made the site safe, carried out safety checks and left at around 2.30pm.
"The incident was not related to our gas network."
A police spokeswoman said: "Police were called around 12.10pm, following the report of an explosion at a block of flats on Moray Road at Watermill Road, Fraserburgh.
"A man has been taken by ambulance to Aberdeen Royal Infirmary where his injuries are not believed to be life threatening.
"There are currently no suspicious circumstances."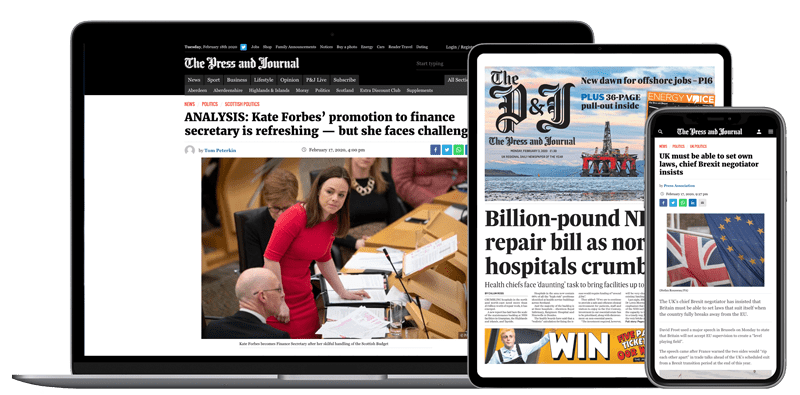 Help support quality local journalism … become a digital subscriber to The Press and Journal
For as little as £5.99 a month you can access all of our content, including Premium articles.
Subscribe