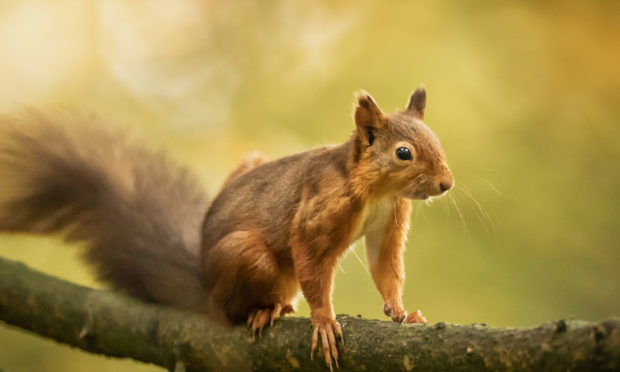 Red squirrels are making a comeback in the north-east, with new data showing a notable decline in their grey counterparts.
Once a common sight across all of mainland Britain, red squirrels are now found mainly in Scotland.
The only squirrel species native to the UK, they have come under increasing threat in recent decades by the spread of non-native grey squirrels.
Saving Scotland's Red Squirrels (SSRS) yesterday published the results of its 2019 annual survey, which indicate that most of Scotland's red squirrel populations have remained stable for another year.
The results also show a continued significant decline in grey squirrel territory in the north-east.
For almost a decade, SSRS has been monitoring squirrel populations in the parts of the country where red squirrels are most threatened by the spread of their grey equivalents.
The findings enable the project to evaluate its efforts to reduce grey squirrel numbers and halt the decline of red squirrel populations in these areas.
Dr Mel Tonkin, SSRS's project manager, said: "The overall trend is looking very positive in the north-east. Overall there has been a significant shift in favour of red squirrels since the surveys began, currently occupying 75% of survey sites.
"Focussing in on the Aberdeenshire results, grey squirrel populations have continued their retreat and are now largely limited to Aberdeen City.
"Here, city residents have been reporting red squirrels turning up in increasing numbers of parks and gardens."
Last July, Gina Ganzenmueller snapped a red squirrel in her garden north of Duthie Park, near the River Dee.
The area has only known grey squirrels since the intruding population took over in the 1970s and the sighting is thought to be the closest recorded to the city centre in decades.
Grey squirrels, which were introduced to Britain from North America in the 19th century, can typically out-compete red squirrels for resources.
Greys can also carry squirrelpox, a virus that doesn't harm them but is deadly to reds.
Although red and grey squirrels can live side by side for a short period of time, grey squirrels will normally replace red squirrels within a few years unless efforts are made to reduce their numbers.
The 2020 spring survey has begun, and between March and April more than 180 volunteers will monitor feeder boxes strategically placed in woodland areas.
When a squirrel visits a feeder box, a sticky tab collects some of its hair, and the species can then be identified under a microscope.
The 2019 Squirrel Survey report can be viewed at
scottishsquirrels.org.uk/publications/