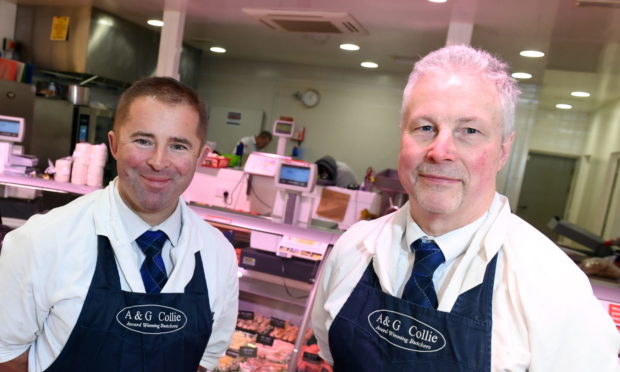 An Aberdeenshire butcher is passing on his apron to the next generation after 46 years of serving his village community.
Graham Collie, of A&G Collie Butchers on St Brydes Road in Kemnay, started the business alongside his brother Jim when he was 19 years old.
Now aged 65, Mr Collie is preparing to retire, and will spend his last day behind the counter serving up sausages, steaks and more on Saturday.
He will be handing over the shop to his younger protege Steven Robertson, who has worked alongside Mr Collie for nearly 25 years.
Mr Collie says he is now looking forward to spending more time with his family, including his five grandchildren, but said he will miss many aspects of his job.
He said: "My brother and myself started the shop in 1974.
"Jim retired 10 years ago, and now it's time for me to go as well.
"It's been a good thing to meet so many customers and get to know them so well over the years, and provide a service to Kemnay."
Mr Collie said that a great deal of changes have taken place in the industry over his 46-year long career at the butcher shop, which he operates alongside his wife Annie.
He said: "When I started out we still had sawdust on the floor, but of course that's been gone for a long time.
"We had a lot of challenges to get through in the meat trade, like fears over BSE, E. coli and the like.
"Eating habits have also changed a lot over the years, and so have shopping habits too.
"But we've been pretty lucky, and have enjoyed a great deal of support from our community and diversified and adapted, so trade is still doing well.
"Steven has been with us for almost 25 years, so he knows the business almost as well as me and I'm fine pleased he's going to be continuing the business."
He added: "My wife hasn't seen much of me for the past 40-odd years, so I'm looking forward to spending more time with her."