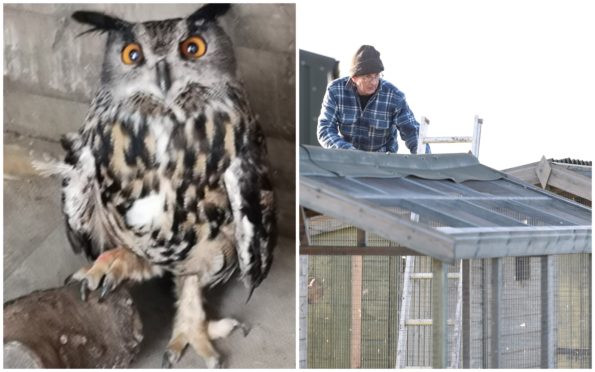 A huge owl is recovering at a north-east animal sanctuary after a lengthy rescue mission.
The New Arc animal rescue centre received a call on Friday morning about an owl in the Mintlaw area.
The centre's Keith Marley said staff are used to people thinking owls are bigger than they are because of their wide wingspan but even he was taken aback by the size of the animal they found.
Eagle owls can be ferocious predators and often grow to having a wingspan of 6ft.
Mr Marley said: "It took a bit of good fortune but we managed to coax the owl to safety. Thankfully, it's in good health.
"It was somewhat wary because whenever it came in to the open it got mobbed by the local crows.
"When I approached it, I got within 20 feet and it took flight and flew off several hundred yards across the main road into a neighbouring field.
"Off I trotted and entered the field, how I hate barbed wire fences. I managed to get within 20 feet again and off it flew back to the next field to where we first saw it.
"Off back across the barbed wire onto the next field across more wire and got within 10 feet before it flew off again. This situation occurred several times until I was near to giving up.
"However, I changed tactics and decided to take a throw net with me and the next time it took flight I threw the net and just missed it causing it to change flight and go to ground several meters away.
"It took off just as I reached it and I managed to grab its wing just as it passed me causing it to go to ground again.
"Thankfully it didn't put up much of a fight once I had hold of it and transferred it into the net before taking it to The New Arc ambulance."
The owl has been named "Cooky" after being caught near the Crooked Nook bends just outside Mintlaw.
The origin of the owl is not known but as it's the third captive bird rescued in the past week within the same area – the New Arc is also looking after a tawny owl and a buzzard – there are concerns that they may have been released on purpose by owners no longer able to care for them.
Mr Marley said: "It's hard to say for sure why there might have been these birds needing to be rescued.
"Our worry is that for some reason these birds may have been released on purpose, possibly due to the owner's ill health or financial difficulties with the best of intentions.
"In this case we would ask them to get in touch with us as soon as possible so we can offer what help we can in the strictest confidence."
When contacted by the Press and Journal, Mr Marley said the centre was still involved in rescuing animals but like most strands of life during the coronavirus pandemic, there had been some changes.
He said: "We are taking precautions like everyone else. The centre is currently closed to visitors."
An eagle owl called Maximus was stolen from his enclosure at the Blue Highlands Bird of Prey Centre in Brora earlier this month.
His lifelong mate Victoria was left distraught by his disappearance but the birds were thankfully reunited around 24 hours later after Maximus was found dumped nearby.