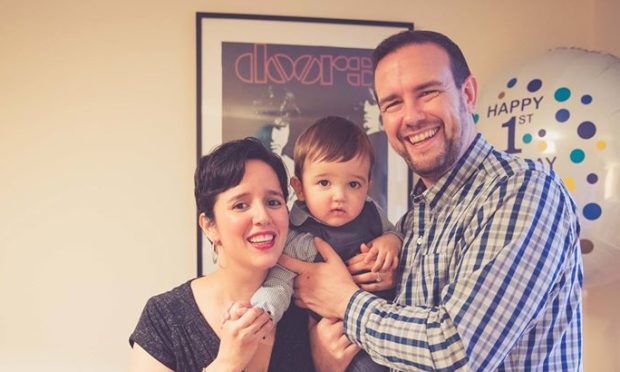 A north-east family say they have been left to "fend for themselves" after becoming stranded in the US.
Engineer Barry Pickard travelled to the US with his wife Pamela and their two-year-old son Ythan to visit relatives earlier this month.
But with airlines across the world beginning to wind down services to stem the spread of coronavirus, Mr Pickard is worried about how his family can get back to their Portlethen home from Houston, Texas.
Their return trip was cancelled by Singapore Airlines – with advice that they may not be able to fly again until May – and they have had no success finding other carriers running flights to the UK.
All their attempts to contact travel agent Expedia have been unsuccessful and, additionally, their travel insurance ran out yesterday with no guarantee they will be able to get an extension.
Mr Pickard said: "I have noted that no travel insurance company will insure you when you have already departed on your trip – which is very worrying considering potential medical expenses in the US."
He has also found himself "dizzy" and "going round in circles" when asking for help through diplomatic channels.
After failing to get through to the British Consulate in Houston on the phone, he tried to get advice in person – only to find their office building had been shut down due to coronavirus.
He said: "Eventually I did get through on the phone, only to be told that they could do nothing and to try the Embassy in Washington.
"I got a swift response via their Facebook page, which was great, only to be told that they can't do anything and to try contacting the Foreign and Commonwealth Office (FCO).
"On speaking to the FCO, they said they could do nothing, with no plans to repatriate their citizens and told to contact the Houston Consulate instead."
Mr Pickard added: "We have been abandoned by our country and ignored by our airline and travel agent, left to fend for ourselves.
"I'm disgusted with this response.
"I know we are not the only ones, but it is still worrying and infuriating."
An FCO spokesman said: "We recognise that any British people currently overseas may be nervous about the impact of coronavirus on their travel and their health.
"We are in close contact with travel providers and our international partners to provide support to those British people affected by ongoing measures to prevent the spread of Covid-19."
Expedia was contacted for comment.