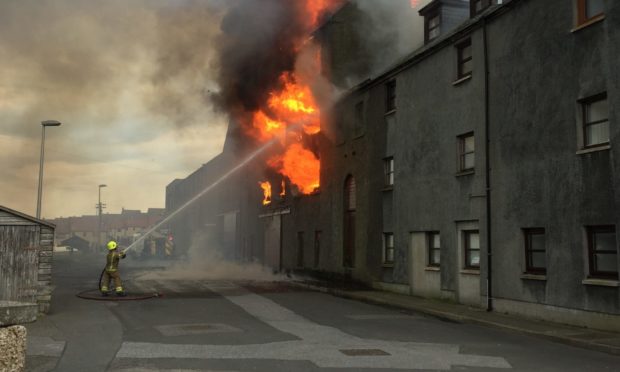 Residents rushed from their homes as a huge blaze tore through a derelict building in a north-east village and threatened their block of flats.
Onlookers reported seeing a "big explosion" at the old Victoria Garage in Macduff, before a "massive ball of fire" engulfed the disused site.
Seven fire engines were sent to the property on Commercial Street yesterday afternoon, with crews battling the towering flames for hours.
Thick smoke was seen billowing into the sky from miles around as police sealed off roads to keep people away from the inferno, and those living in an adjacent block of flats were scrambled from their homes.
The roof collapsed shortly before 3pm, and residents believe the building has been so badly damaged that it will have to be torn down.
Peter Thomson, who lives nearby, called the fire brigade and quickly alerted people living in flats next door.
He said: "I told them about the fire, and to get out and evacuate the building."
Fire crews later had to smash their way into one flat to make sure there were no people at risk of harm inside.
It is understood that the disused garage has recently become a haven for anti-social activity, with youths often spotted loitering inside.
One resident said that children had been inside the building earlier in the day.
A fire service spokesman said there were no casualties.
Lianne Winton was near the scene when the blaze broke out.
She said: "The roof has totally come down – it was utterly frightening when that happened, as it was like an explosion with the flames flying out the holes where the windows would have been.
"The heat and noise were immense. This is just so, so sad.
"Not much is left of the building. I reckon it will have to be pulled down."
Ward councillor Mark Findlater said: "My thanks go out to the firefighters for being so quick on to the scene.
"I saw it first from Whitehills and there was a big explosion and a massive ball of fire came from it.
"It's very dangerous by the look of it."