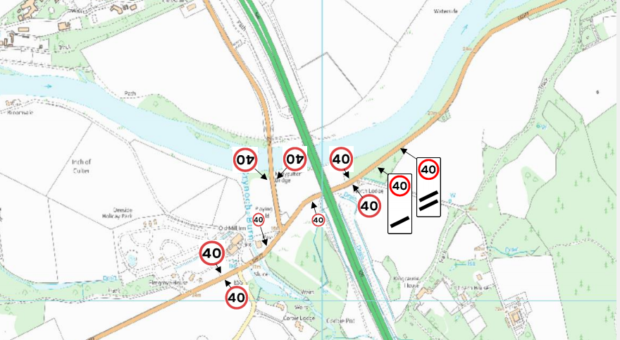 The speed limit on a busy Aberdeenshire road could be reduced from 60mph to 40mph at a notorious junction with one of the main routes out of the west of Aberdeen, after councillors agreed to move forward with safety measures.
Between 2013 and 2017, there have been around 10 notable crashes on the B9077 South Deeside Road, near its junction with Milltimber Brae and the bridge over the River Dee.
During that five-year period, there has been one fatality on the small stretch of road, two incidents resulting in serious injuries and three crashes that left people with slight injuries.
Last week, councillors were presented with a report urging them to approve the implementation of a 40mph speed limit on a stretch  from just east of where the B9077 goes under the Aberdeen Western Peripheral Route, to just west of the entrance to the Deeside Holiday Park.
And yesterday councillors attending an online meeting of the Kincardine and Mearns area committee agreed to move forward with plans to cut the speed limit from 60mph to 40mph.
An alternative proposal to put in place a new 50mph restriction was not approved by councillors.
It's estimated it will cost around £2,000 to implement the new speed limit, with new 40mph signs which will be put in place on the approach to the new lower speed limit area from the north, east and west.
Independent North Kincardine councillor Colin Pike said: "We agreed to go with the officers' recommendations.
"The committee unanimously agreed that we start the process to introduce these new measures."
In his report, the council's director of infrastructure services Stephen Archer said work won't commence until consultations are completed.
He said: "Subject to approval by the committee, it is proposed to undertake a four-week statutory consultation with interested parties.
"This will be followed by a 21-day public consultation with site notices erected at the location, seeking comment from anyone who wishes to make representation."