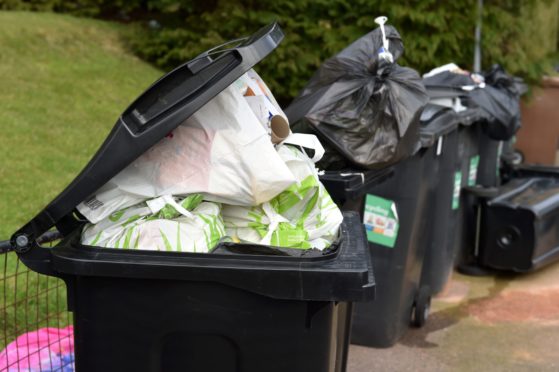 Bin collectors in Aberdeenshire have been pestered by concerned residents this week telling them to go home – but the council has reminded the public the "critical service" must continue despite the coronavirus pandemic.
The local authority has received a number of reports over the past few days that certain householders have been interfering with its household waste collection crews going about their jobs.
But the council says the service needs to continue "to ensure public health is maintained", and issued a plea for residents to "let our crews get on with their essential job, and keep a safe distance away".
Waste has also been piled up outside the gates of the council's various recycling centres, which are now closed.
Councillor Peter Argyle, the chairman of the authority's infrastructure committee, has appealed for residents to follow the rules and allow bin collection to go ahead unimpeded.
He said: "I have a huge admiration for the crews still doing the rounds. They are continuing to deliver a vital service in a manner that has been deemed to be safe and they are taking every precaution.
"If people don't want to have their bins emptied, then that's fine, and they shouldn't put them out and they won't be bothered – but don't start abusing these workers.
"It is just plain wrong."
Mr Argyle also said those travelling to recycling centres only to abandon their waste outside the closed gates were creating unnecessary risk and generating more problems for others.
He added: "On the matter of recycling centres, we have made it very clear they are closed and it is appropriate that they are closed because they cannot be deemed as essential.
"So it's disappointing that people are making what the government has determined to be an unnecessary journey and, having done so, just dumping rubbish outside the gates of these centres.
"It's quite frankly unacceptable. People really need to follow the rules because we're not playing games here. It is a very serious matter."