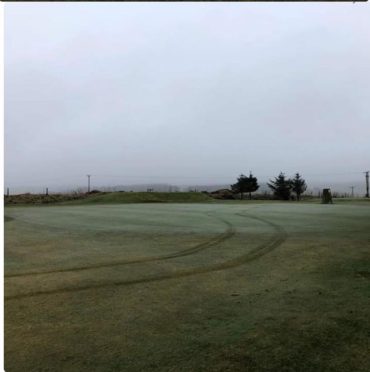 Joyriders who flouted lockdown rules to damage a north-east golf course have been branded "mindless and inconsiderate idiots".
Tyre tracks were left through the Oldmeldrum Gold Club's 17th green, for the second time in one year.
Mitch Good, greens convenor, said: "It is suspected that the damage was done by mindless and inconsiderate idiots.
"This is not the first time this has happened, as the same green was severely damaged last year in June.
"What is remarkable is that the people that have done this are supposed to be in lockdown.
"They are obviously not following the government rules on social distancing and have no respect to the local community, golf club or its members – and especially the golf course."
Sergeant Niall Mullen, from Peterhead police office, said: "We can confirm that officers have received a report of vandalism to Oldmeldrum Golf Course, which is believed to have taken place overnight between Thursday and Friday.
"Inquiries are at an early stage and anyone with information is urged to contact the police on 101, quoting incident 1045 of 27 March."
Last June, grounds staff at the golf club were saddened after a group of "mindless" joyriders tore up the same green, with sections of turf entirely ripped up.
Mr Good added: "Last year's damage took about a month to a month and a half to sort itself out."