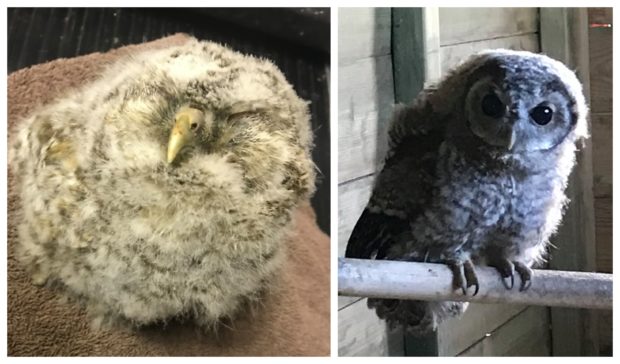 A baby owl taken in by a north-east rescue centre after being found at the base of a tree will soon be released back into the wild.
The tawny owl was taken to New Arc, near Ellon, after being found at the base of a tree in Tullos Woods in February.
The team were concerned the tiny bird – named Doodles – would have been an easy prey for other animals.
They kept him warm and fed him, nursing him back to full health so he can be released.
For the past few weeks Doodles has been living in an outside, pre-release aviary to build up his independence.
Keith Marley, head of the charity, said: "He's been casting fluff, the feathers are through and he's ready to fly.
"His feathers are close to full development and he just needs to work on his silent flight."
A release date has not finalised yet but the pair hope Doodles will take to the skies in the coming weeks – but the conditions must be right.
Mr Marley said: "We would preferably release him at Tullos Woods where he was originally found, but due to recent circumstances that may not be possible.
"We need to ensure he is released in a good location with plenty or rodents about he can hunt and feed off."