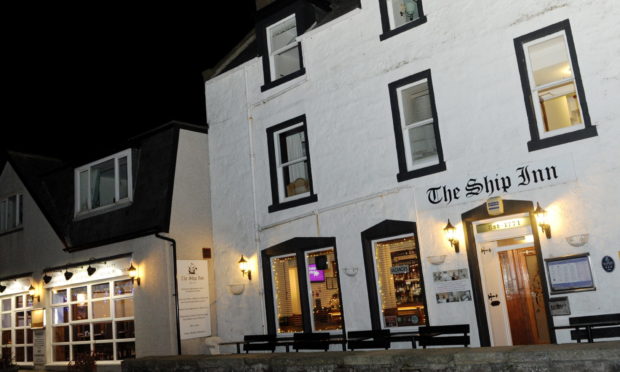 Criminals have stolen a four-figure-sum from an empty pub, with the business community increasingly fearful over how many more could be targeted during lockdown.
Thieves made off with the money during a break-in at the Ship Inn, in Stonehaven, early on Saturday morning.
During a mini crime spree in the seaside town, the nearby front doors of Trouper's Bar, Molly's Cafe bar and the Market Bar were also vandalised. Each was daubed with paint.
Proprietor of the Ship Inn, Simon Cruickshank, wrote on Facebook: "All business owners please be aware that our office at the Ship Inn has been broken into and money stolen.
"Please be on the lookout for anybody who has suddenly got cash to splash around.
"This has totally sickened me. We've only been shut for a week and somebody's broken in.
"And yesterday Trouper's Bar front doors were vandalised with spray paint – also Molly's and the Market Bar.
"Let's all be vigilant and look out for each other.
"We're all suffering enough already with this terrible virus and the effect it's having on our businesses without people like this making matters worse."
Saddened local councillor Dennis Robertson said: "There will always be opportunistic people and it is very unfortunate when everyone else in the community has been banding together so well."
Enquiries into the incident are ongoing and police officers have urged anyone with information to come forward.
Constable Ashley Stewart, of Stonehaven Police Office, said: "I am appealing to anyone who was in the area at the time and heard or saw any suspicious activity to contact police as soon as possible.
"Although the property was secure, I would like to take the opportunity to remind business owners to review their security while premises are closed and ensure all windows and doors are locked at all times."
Anyone with information on the incident is asked to call Police Scotland on 101 or Crimestoppers anonymously on 0800 555111.
Already in recent weeks, joyriders in Olmeldrum badly damaged the town's golf course, ripping up grass, by driving onto the 17th green.
And after a nursery in Balmedie was targeted by vandals, local councillor Paul Johnstone urged parents to keep a tighter leash on their children.
In Aberdeen, four empty schools were targeted between Thursday, February 27, and Sunday, March 22, with petty cash and safes all stolen.
The same weekend, four men wearing dark clothes stole money and items of great sentimental value in a series of "linked" raids on Highlands care homes.
Yesterday, Deputy Chief Constable Malcolm Graham urged people to stay within their homes, or face consequences.
He said: "We've had high visibility patrols in place right across the country since we were given these enforcement powers.
"But it's clear that the vast majority of people are complying with the measures. They know the message is to stay at home, and by and large, they're doing that.
"There will always be people who refuse to comply, but the low number of penalty notices shows they are in the minority and in those cases we've had to use enforcement as a last resort.
"This is a big change to the way people live their lives and they need to adjust to that."